Two years after an earthquake devastated Haiti, conversations have begun in earnest about the creation of a Haitian-led, Haitian-owned institution – a community foundation – which can mobilize a range of different resources – public and private, local and international, institutional and individual, cash and in-kind  – and which can provide the type of financial capital and technical support to Haitian NGOs, community based groups and other grassroots initiatives which are both sorely lacking in Haiti. In January I facilitated a two-day workshop in Port au Prince to develop the idea of establishing a community foundation. When I asked the participants to reflect on what was and wasn't working in Haiti today, what emerged was a strong sense of frustration and disillusion as to how little had still been achieved, particularly given the vast outpouring of philanthropic donations and international aid in the aftermath of the earthquake. The weakness – or, in some areas and sectors, complete absence – of government as a mechanism for delivering development to the Haitian people was identified as one key factor. But the international aid effort also came in for criticism: the lack of coordination, the sense that Haitians were being excluded from decision-making, that their voices were not being heard and that Haitian NGOs and groups were being overlooked and certainly not being invested in. In the words of one of the participants, "A country cannot run on projects – Haiti is a country of projects."
Two years since the earthquake and it seems that for many the time feels about right to start thinking about new models and approaches for Haiti: the gear change from the immediate humanitarian relief effort to long-term development is well established and the limitations of the current development effort seem all too apparent.
The timing for a conversation about new and alternative approaches and models to development in Haiti is good from another perspective. Ten years ago, or even five, there were far fewer examples and experiences of setting up a community foundation in a developing context like Haiti to look to for inspiration and to draw upon for direction. Today, the journey of setting up a local foundation in Haiti – or anywhere else – need no longer be a lonely one. All over the world, there are individual institutions as well as national and regional networks of community foundations, women's funds and other types of local grantmakers which are increasingly well networked, able to articulate a collective voice in dialogue with international donors and governments and which offer a treasure trove of practical and grounded experience derived from no better place than the front-lines of foundation-building. They may not be as well sign-posted as other elements of today's global civil society but the basic infrastructure, relationships, networks and knowledge are there and together they form the basis of an important eco-system in which new and emerging institutions and initiatives can emerge and thrive.
The value of such a global network and the experiences that it can bring was evident at the Haiti meeting. In attendance was the Kenya Community Development Foundation (KDCF), which is now fourteen years old, as well as the Fundación Comunitaria de la Frontera Norte (five years old) and the Corporativa de Fundaciones (thirteen years old) from Mexico, and the recently established Baoba Fund for Racial Equity in Brazil. In terms of experiences specific to Haiti there was also the Lambi Fund of Haiti, a grassroots grantmaker (14 years old) and the Haiti Fund at the Boston Foundation (established in the aftermath of the earthquake in 2010).  And with each of these institutions comes a rich assortment of different experiences to share, stories to tell, advice to give (and a combined track record amounting an impressive fifty years!).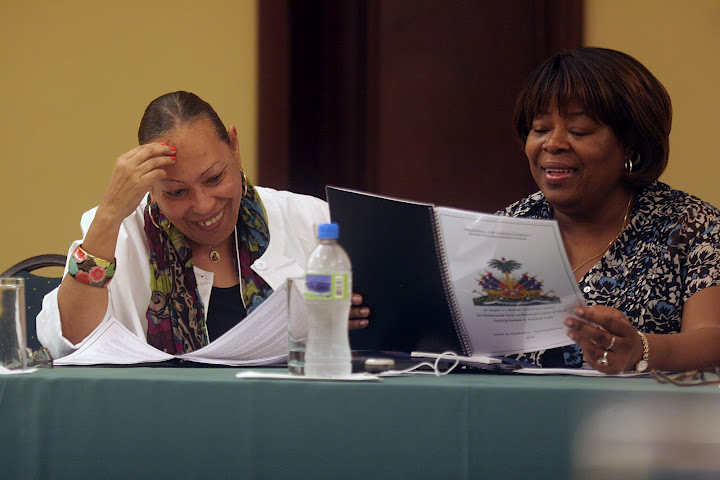 Josette Perard and Marie Marthe St Cyr of the Lambi Fund of Haiti
The experiences from Kenya, in particular, resonated with the group. There were many parallels between the environment in Kenya in the late 1990s and the situation in Haiti today and it was these contextual factors that served to shape the development approach, culture, governance and management style of KCDF. Janet Mawiyoo, CEO of KCDF, characterized those factors as:
–        Many international actors in Kenya and yet not much to show for their efforts
–        High levels of corruption and inefficiency in government and in public institutions
–        A sense that development agendas were being set from outside Kenya
–        A low level of input and participation from communities
–        Increasingly, a dependency mindset, with people looking for help from outside and not recognizing what they have
–        The existence of strong giving traditions in Kenya, particularly around family units, which were not appreciated as something that could be built on.
In framing the new institution of KCDF, therefore, its founders had sought to emphasise some key principles which continue to underpin its work today. They are:
–        Sustainability – taking a long term view of the community
–        Listening to community issues / voices – and being responsive to them
–        Promoting local giving – as a move away from depending on foreign support and changing mindset
–        Importance of local accountability
–        Capacity development of local organizations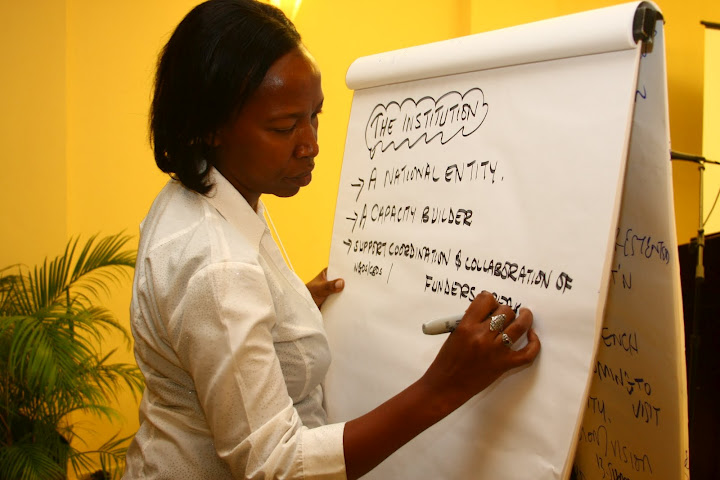 Janet Mawiyoo, CEO of KCDF
As work on the Haiti community foundation initiative begins to gain pace, and to negotiate its space in what is an extremely crowded NGO landscape in the country, there will be challenges and distractions – of money and politics, no doubt, and of managing expectations, particularly in the short term.   The support of sister institutions, who have travelled that lonely path before them and who have sought to change mindsets and offer an alternative approach to development, will come to play an enormously important role.
Jenny Hodgson