Can community philanthropy coexist with the big external aid entities? Are community foundations part of a larger movement of emerging hybrid organizations in a new social economy? These are some big questions for the community philanthropy field which have been raised in the past few weeks.
The Value of Community Philanthropy argues that increasing local ownership and accountability leads to stronger communities and should be a main focus of development aid practitioners. The report sets out the results of a consultation (conducted by the Mott Foundation and the Aga Khan Foundation USA, in association with the Global Fund for Community Foundations),  to explore ways to stimulate and develop community philanthropy as a way of strengthening civil society and enhancing aid effectiveness.  Its formal launch at an event hosted by the Aspen Institute in Washington D.C. earlier in the month was attended by donors and development practitioners, and generated a positive buzz on the social media airwaves.
The report was written by Barry Knight, Executive Director of CENTRIS and adviser to the GFCF. Barry is also co-author of another new report, The New Generation of Community Foundations, just released by the GFCF and the Coady International Institute, which explores the emerging community foundation phenomenon in the context of other forms of "social solidarity" institutions and movements, and also as a response to disillusionment with conventional channels of international aid.
The collaboration between the GFCF and Coady emerged out of chance encounter at a workshop in South Africa in 2009. During a brief conversation during a coffee break, Gord Cunningham (then acting director at Coady) and I discovered that, although we were coming from slightly different angles we shared a common interest in community-driven development and, in particular, the role of local assets.
For the GFCF the past six years of grantmaking to almost 150 organizations in 40-plus countries has allowed us both to support and observe local community philanthropy institutions emerging and developing in very different parts of the world. We have seen that community philanthropy and its institutions vary according to context. And sometimes this has lead us to wonder whether the term "community foundation" is itself always helpful or whether it can sometimes end up constraining our thinking. There is no doubt that precise terminology can bring clarity to an emerging field and affirm its collective identity, but there is also a danger that if we are only looking for similarities – or a lowest common denominator – we end up losing the contextual and nuanced forms that these institutions can often take. So increasingly, in our grantmaking we have become less preoccupied with form alone and more interested in how such institutions evolve and fit within the broader landscape of people-led development and other forms of social innovation.
On its part, the Coady Institute's interest in citizen-led development has its origins in the work of Jody Kretzmann and John McKnight on Asset-based Community Development (ABCD). Gord Cunningham and his colleague, Alison Mathie, became interested in seeing how a development approach which shifts from a focus on needs, deficits and problems to assets, strengths and contributions, could be built on and applied in different settings. Through their international work, they had seen how the introduction of an "ABCD" approach often had a rapid uptake at community level, and how groups began to organize informally around new activities by identifying assets and opportunity. At the same time, they had also observed that these informal activities eventually reached a ceiling and couldn't continue without formalizing in some way: this led them to starting looking at innovative types of formal organizations that used assets as leverage and asked for investment, not charity.
At a subsequent meeting between the GFCF and Coady, where we were joined by Johanna Hendricks from the West Coast Community Foundation in South Africa and Janet Mawiyoo from the Kenya Community Development Foundation, we decided that the best way of testing the value of a joined-up approach was to conduct a joint study of a successful example of community development, which involved both a community foundation and an asset-based approach. Our joint report The Story Behind the Well, tells the story of how a rural community in Makutano, Kenya, has transformed itself over a period of 14 years and looks at the role played by the local development association and the Kenya Community Development Foundation in bringing about that change.
Building on the evidence presented in The Story Behind the Well, and with funding from the International Development Research Centre (IDRC), we invited a group of "innovative thinkers" to come together to discuss new approaches to community and organizational development last July at Coady, in Antigonish, Nova Scotia. The group, which included participants from South Africa, Brazil, Canada and the United States, working variously in community organizing, membership-based organizing, rural development philanthropy and the social economy, was asked to consider:  'whether recent developments in community development (e.g. community philanthropy, social enterprise, member based organizing) offer an opportunity to think differently about support for people led organizing for social justice?'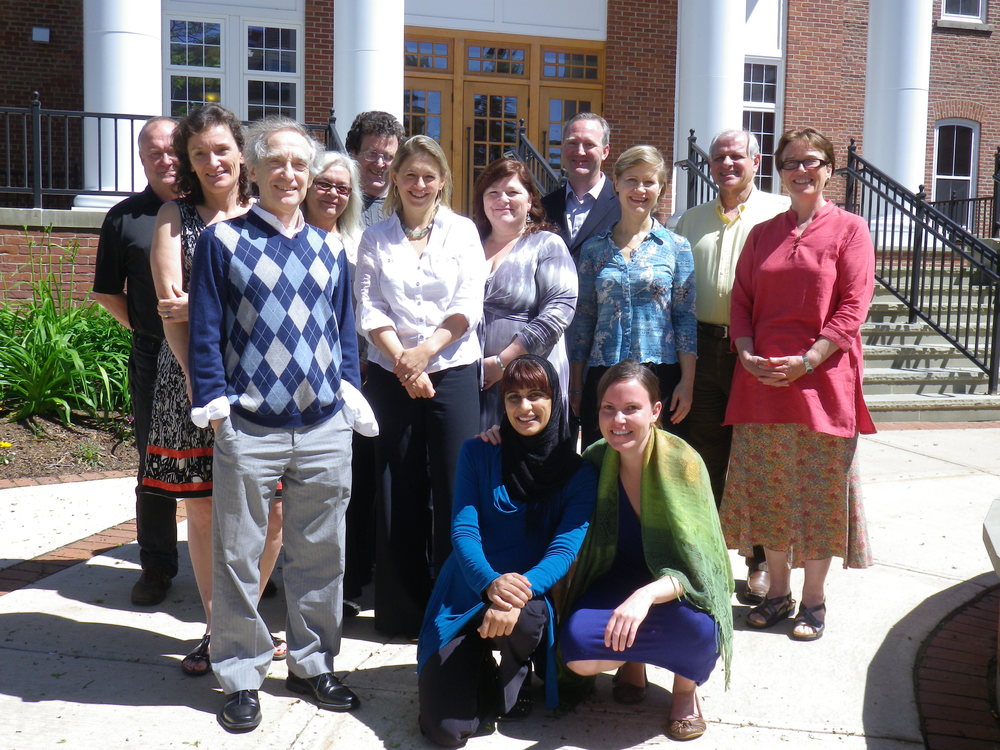 Our "think-tank" for the GFCF / Coady Institute research initiative
One key point which emerged out of our two days' together was the need for groups and individuals to reach out across disciplines and "silos" and challenge the accepted "rules" of development in order to learn from each other. As the world becomes more interconnected, the opportunities for even the smallest, most "grass-roots" organisations to engage in these sorts of debates are becoming much more common, challenging more established theories and organisations, to the benefit of all.
In reflecting on this need for behaviour and mindset change one participant observied: "We need to learn more and drive each other's cars, and move from stick shift to manual, and then try out a convoy."
Jenny Hodgson