I'm feeling "old."  Not as opposed to "young" but as opposed to "new."  I think it's all this talk in our sector lately about innovation. Whatever happened to "If it ain't broke, don't fix it?"  And it's just oh so sexy and attention-grabbing to label something as "new" even when it's not.
OK, so I'm sounding like a stuffy old curmudgeon pining away for some mythical good ole days.  But I still do have serious questions about how "new" some hot trendy things in philanthropy really are (e.g. venture philanthropy, collective impact, scaling, even community leadership) or whether it's just things people have been doing for quite a while but were calling them something else, or not calling them anything at all but still doing.  The proverbial "old wine in new bottles."
Anyway, in thinking about a session at the upcoming fall conference on some new (there I go – as guilty as the rest!) and exciting things going on at community foundations around the world as well as in the U.S., Jenny Hodgson and I almost went with "old wine in new bottles" for (a feeble attempt at) a catchy title for the session.  But then we realized – although there's certainly some of that in what we'd like people to learn and think about – there's more of the reverse going on.  If the bottle is the value base and purpose of community foundations, then the wine is what they actually do day-to-day to make a difference in their communities.
A recent report (published by the Global Fund for Community Foundations and the Coady International Institute) called The New Generation of Community Foundations talks about how this "new generation … blurs the boundaries between mutual aid and philanthropy by placing a particular emphasis on the role and value of local assets and resources [ed. – don't see nuthin' new here – yet], which may include money as well as different forms of social capital, such as trust and volunteerism or mutual help and support [ed. – there it is!]."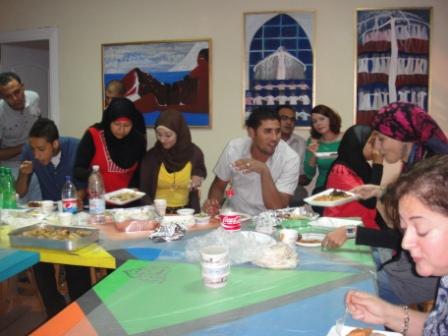 Waqfeyat al Maadi Community Foundation, Egypt: a "new generation community foundation"?
Whether or not you think that's really new, I would say that it's different than most of the last few decades in the U.S. community foundation field.  Or, at the least, it represents a shift in emphasis between the various components of the value proposition of community foundations.  And it's beyond just the by-now-slightly-tiring and somewhat false dichotomy between asset development/endowment building/donor service on the one hand and community change/social justice/lasting impact on the other.
Especially in  some places around the world facing huge challenges, there seems to be a new (different?) way of considering what community assets really are (certainly beyond endowments or even money), by whom and for whom and how they are unleashed and applied, and what role community foundations play in all this.
In many cases this "new generation of community foundations stretches the concept of what a community foundation is.  So – are we talking about new bottles as well?  Is it really new wine?  Or is it all just same-old same-old, but using different terms?
Please join the conversation by reading the report and posting a comment to this blog and/or at the session (at the Council on Foundations Fall Community Foundation conference in New Orleans) called A new generation of community foundations: New wine in old bottles? on Tuesday September 11, from 4 to 5 p.m.
Nick Deychakiwsky is Program Officer at the CS Mott Foundation. This blog was originally published on the US Council on Foundations RE: Philanthropy blog.