A recent peer learning event organized by the African Grantmakers Network and the East Africa Association of Grantmakers focused on sustainability, a topic that has caused much heartache and angst among both civil society and donors since the very first grant was ever made, back whenever that was. One of the presenters, was Kgotso Schoeman of the Kagiso Trust in South Africa, an organization that reached the promised land of milk and honey (so, sustainability) when a rather unique set of funding circumstances presented themselves fifteen years ago. These were seized upon by Kagiso's leadership who some bold steps and set up an investment company which now funds the Trust's programmes. With the economies of Sub-Saharan Africa growth projected to grow at 5.5 % over the coming years, asked Kgotso, is African civil society ready to shift from its "programme – fundraising" mind-set to one of "finance and investment"? Or was the plan just to wait for money to be made by others, who may then set up their own charitable foundations – to which we can all apply for grants? The NGO sector in Africa, he lamented, has been slow to respond to the seismic shifts that have occurred in the global environment.
"Ah," responded many in the room (silently, obviously), "It's all very well for you to say that, sitting as you do in your comfortable, sustainable, position. But it's not so easy for the rest of us."
At a day-to-day working-in-the-office level this is probably true. When you live on a hand to mouth, project-based, existence it can be hard to find the time or energy to think about how to fundamentally re-design your business model. But times are changing, and as the scramble for Africa's mineral wealth continues and as privatization processes continue with more momentum than ever all over the world, are there new opportunities to harness some of those resources for the public good?
Well, the good news is that there are a number of positive developments that are taking place in terms of this conversation which can perhaps help lay the groundwork for some big and bold thinking and action around how public or quasi-public assets can be harnessed for the public good, particularly in emerging markets and developing contexts.
Precedent: A recent study, "Philanthropication thru Privatization: Buiding Asset for Social Progress", led by Lester Salamon at Johns Hopkins University concludes that  more than 500 endowed, independent charitable foundations have been created or enriched during privatizations, most of them since 1990 and that together they control assets of $128 billion (see this article in the Economist). The study takes an in-depth look at 22 such "P-t-P" foundations (in Europe – starting with the Italian "foundations of banking origin" whose assets amount to over 50 billion euros, the United States and New Zealand). It concludes that there is a hitherto undiscovered or unconnected "family" of public benefit foundations which, despite the fact that they emerged in complete isolation from each other, derive from the same gene pool and together constitute what one consider a "field".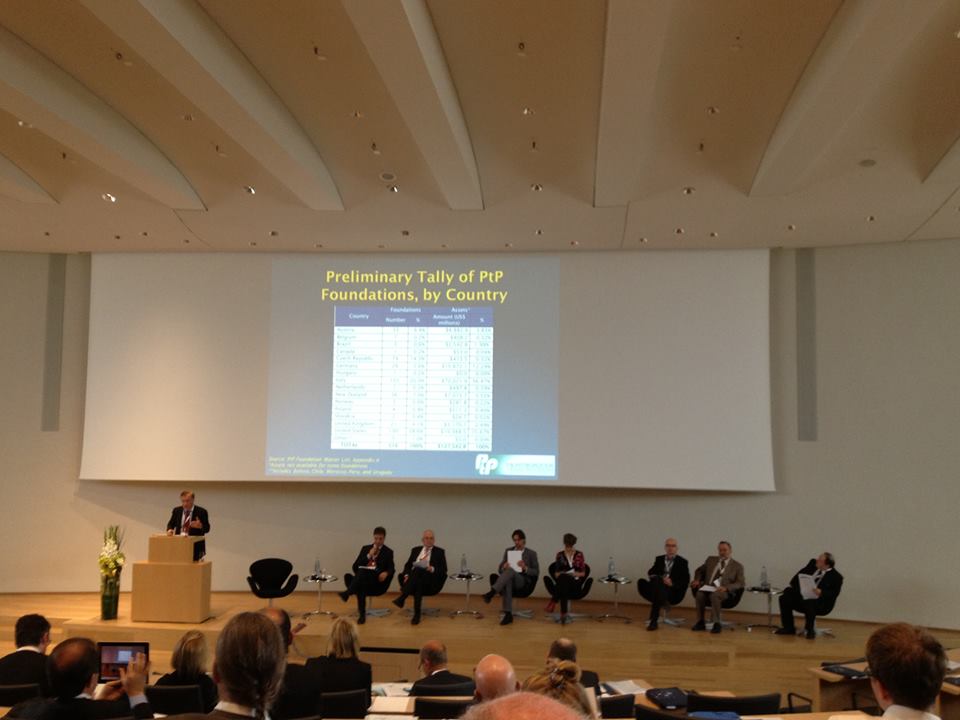 The Philanthropication thru Privatization Team presenting the "Findings to Date", Hanover, Sept 2013
How might the experiences of this newly discovered field serve, then, to inform the development of new charitable institutions in other parts of the world where privatization is happening but where the foundation sector is still weak? The study observes, for example, that if 10% of 2007's sale of 40% of the stock in Kenya's Safaricom mobile phone network to the U.K.'s Vodaphone company had been dedicated to the creation of a Kenya Community Foundation, the result would have been a charitable institution with nearly US $65 million in assets. Food for thought….
Opportunity: The report observes that privatization (whether one likes it or not) is continuing to take place around the world at an unprecedented rate (2009 and 2010 were particularly busy) so now is the time to act. Similarly, as extractive industries (also dealing in a nation's "iffy" public assets) are increasingly required to demonstrate long-term benefits to the countries and communities in which they are operating, can the creation of charitable foundations provide one type of long-term solution for local social and economic development? In Ghana, for example, the Newmont Ahafo Development Foundation is one example of an effort by a mining company to create an endowed, community-owned development foundation with resources derived from mining in the region.
A growing field of indigenous philanthropy: Getting the governance right in these types of "philanthropication thru privatization" foundations is clearly a big issue. How to ensure that they ensure their multi-stakeholder quality and aren't just another funding mechanism for government? Well, one place to look is to the growing field of local foundations around the world – public benefit foundations, community foundations etc. – whose very existence and ability to raise local money derives from the credibility of their governance and management functions. Although many of these might not be rich in terms of financial capital (it's slow work building up a local donor base, particularly in context where international development aid has ruled the roost for a long time), they are often rich in social capital and public trust. So, while historic precedent and the institutional track record of established P-t-P institutions in the North can offer one source of influence and learning, so this new generation of local foundations in Africa, Asia or Latin America has a lot to offer in terms of practical advice.
New donor interest in community philanthropy: A new donor collaborative, the Global Alliance for Community Philanthropy, offers another potentially important addition to this discussion. One of the broad objectives of the Alliance (whose members include the Mott Foundation, Aga Khan Foundation, Rockefeller Brothers Fund, Inter-American Foundation and USAID) is to demonstrate is that fostering local ownership and accountability in development processes (including the creation and stewardship of long-term local assets) leads to stronger communities and that this should be a key focus of development practitioners in their pursuit of sustainability.