Nora Lester Murad, writer and volunteer with Dalia Association, Palestine's community foundation, Dana Doan, Adviser to the LIN Center for Community Development in Vietnam and Fulufhelo Netswera, Tswera Community Foundation are at the EdgeFunders' Just Giving Social Philanthropy Conference in Berkeley, CA, where they will be speaking in a session on community philanthropy. They will contributing a series of blogs over the course of the conference. The most recent blog is at the top.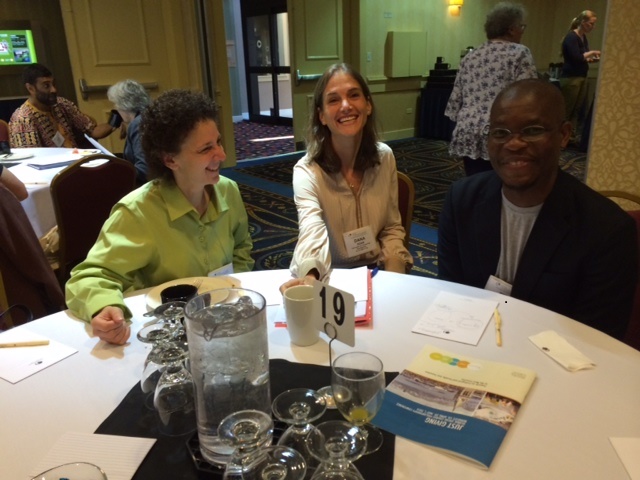 Nora Lester Murad, Dana Doan and Fulu Netswera, our intrepid bloggers at the EdgeFunders Conference
Wednesday 30th April 2014: Fulu on philanthropy in the context of complex global issues
 Today was another day filled with moving philanthropic experiences shared by foundations here at the EDGE Funders Alliance conference in Berkeley, CA.
The day started with at least three interesting performances. The three poems are inspired by the importance of benevolence and the work of philanthropic organisations all over the world. I realise very much how much it helps to visualise and dramatize important matters than just talk through some often "cold" PowerPoint slides and these plays reinforces an important learning angle:
The first poem presents intricacies and interconnectedness of life all over the plant to which the "well-off" is often oblivious. How important it is to realise that the your refrigerator is stocked with food that is produced of cheap labour exploited by big multinational corporates and that it is polluted by pesticides to which your body would soon falls sick;
The second poem was a dialogue between a human and earth. Earth reminds man that they are slowly sliding away from natural existence retreating into their concrete jungles, destroying forests and the little left fresh water sources continually dissing this relationship and fulfilling this void with new found gadgets and toys. Earth reminds man that she will survive with or without this relationship but will mankind survive?; and

The third poem paints a scene of two protests taking place at Washington DC. The first protest is Free Palestine movement and the second is Gay Rights parade. The march paints interesting contrast in life priorities and interests. The voices are competing as the two marches move parallel each other towards the capitol shouting free Palestine!….Gay rights now! Towards the end a singular voice emerges in this shouting match;

"…Palestine Gay Rights

!" These noises all over the world distract us of what in order of priority many may agree needs attention first and by all.
The plenary was equally moving titled, "Strategies for the historic shifts we need". The panellists comprised Walden Bello who is Philippine author, academic and member of congress; Million Belay director of MELCA Mahiber who is a food sovereign activist from Ethiopia; Sarita Gupta who is executive director of Jobs with Justice and Holly Bartling of the Human Rights and Economic Justice Programme. Important takeaways from this plenary can be summarised as:
People do not perpetually tolerate huge and obvious disparities in wealth. The French revolution repeats itself all the time all over the world and we seem not to learn. Will it not repeat itself this time on a global scale? The big question is whose solutions will the general public chose? Will corporate, the rich and middle class retain the privileges that they have when the next class revolution happens? In a highly globalised world that is fast moving towards unprecedented disparities we need to continuously consider that production should firstly benefit local than export markets and capital. Economic policy should thus be subjected to democratic processes and swing away from further corporatisation;

Africa and the world are faced with increasing mouths to feed annually amidst disparity in consumption patterns and contrasting increase in climatic change, soil degradation and erosion and poor yield. It seems that everyone has solutions for Africa but no one has genuine interest for its development than just exploitation of Africa and the developing world. The green revolution should therefore recognise the rights of African farmers (mostly women) and their farming methods. Through interventions by international governments and corporations African agri

culture

has slowly been changed into agri

business

thereby eroding the important cultural elements of farming, water and soil treatment which are long indigenous African traditions. Million gave practical examples of how his programmes are making a difference in the restoration of fish stocks and turning unproductive land into fertile land using traditional methodologies in Ethiopia; and

One of the biggest challenge that faces humanity is attaining a livelihood through one's labour. Trends internationally are that jobs are becoming contingent, part time, contracted thereby minimising the historic value associated with valuable and useful work. In the new forms of labour relations employees no longer negotiate conditions and lack stability and benefits of normal jobs. A variety of Jobs for Justice specifically in the retail sector has led to numerous litigations with giant retailors and their supply chain and logistical feeding industries that are continuously eroding and violating labour rights. Jobs for Justice won a big battle against Wall Mart forcing the industry to ensure that no abuses and exploitation from all its suppliers all over the world is tolerated and workers interests are protected.
There were also interesting lessons from one of the day's parallel session titled "From Transaction to Transformation: why structural racialization analysis is essential for challenging global corporate power". The discussions led by John Powell, Taj James and Saru Jayaraman flagged the following points:
The role of government overtime has shifted to protect corporates who are wrongfully perceived to be economic producers than protecting the interests of the general public and workers;

Explored how big corporates always get their favourite policies approved by legislature despite public protests because they are able to "buy" and sponsor power acquisition; and

Provided evidence proved that continuous expansion of corporate rights shrinks civil and human rights;
The political other represent those with no political voice and therefore no legislative representation. As the public gains more rights corporate slowly erode these rights. Example: when the public won the right to vote; the corporate South in America ensured the introduction of new legislative measure like voter ID and no vote rights for convicted felons.
The goal post keeps shifting to ensure the public is on the back foot and corporate interests are secured. There is recognition of the growth in anxiety among the racial other (blacks, Latinos and Muslim). We should realise that we can only deal with the environment and racial prejudices from public policy front and not from the economic (income inequality) front first. We can't address inequality through tinkering with the economy like the minimum wages. The struggle should be for equitable in ownership across race. Although philanthropy realises the challenges of inequality and marginalisation its response unfortunately is often that we have bigger global challenges to confront like ecology thereby ignoring the root causes of the same major challenges.
Lookout for my next and final report from the EDGE Funders Alliance conference at the Bay in San Francisco FNetswera@gmail.com 
Wednesday 30th April 2014: Fulu asks whose side we choose to be on
Yesterday was an important day for philanthropy worldwide as the second EDGE (Engaged Donors for Global Equity) Funders Alliance conference got underway here in Berkeley, CA.
The facilitator opened the conference with a chorus, "Whose side are you on?", that forced me reflect on the possibilities of the duality or multiplicity of side that mankind has to consider for and as their personal, social and economic choices for association. Or are there obvious choices really I wonder? How obvious is it to an everyday man the clarity of these choices or are these choices at all? Are the choices as clear either for corporates or is it survival of the fittest in this economic Wild West?
1. To be one with nature or to destroy our habitat as we know it?
2. To continue the capitalist/corporate greed at an all profit or nothing orientation and majority profit for a few?
To complement the chorus; a short video clip (ecology project) by Gopal Dayaneni that educates all about the meaning and importance of the principles of Eco (home) ology (nature/biodiversity) was screened suggesting that man "is/should be" one with nature. However man has taken a greedy path of extractive role by amassing finite earthly resources at a pace unsustainable. 
It seemed by the introduction of the inaugural plenary that philanthropy has chosen its side in this "struggle" by the introduction of the conference plenary titled "components of just transition". The discussants (Sarah Hobson, Susan George, Kumi Naidoo and Maria Poblet) provided a compelling argument for the urgency of the required "transition" which should be "just" to all humans and ecology. 
Without repeating the entire plenary; among others, were important talk points and deductions:
There is a flaw in thinking the economy can sustain an infinite growth and mankind has to change that attitude;

   

Man should consider possibilities of an economy with minimal externalities (pollution, labour exploitation, huge gaps between rich and poor, etc.);

Unfettered capitalism leads to inequality. Mankind (neoliberal economists [banks, gas companies, etc.]) have eroded the gains of post-world war (decolonization, women's rights, universal health care, etc.) and the struggle should be to consolidate some of these gains.
The challenge we all face is global and systematic and small man is largely not able to influence major policies that matter. Kumi Naidoo closed by reminding everyone on the save earth campaign that mankind has already run out of time and that the planet needs no saving because it has the power to replenish with or without mankind.
The big question looms still; whose side are the philanthropic "intermediaries"? Do we realize the existence of the philanthropic movement is an outcome of the same extractionist capitalist system and we are complacent in perpetuation of the capitalist trickle down ideology? Naidoo reminded all that in all of history where mankind won; the struggles were characterized by ultimate sacrifice. It seems that mankind has already started an uprising against corporate and political greed worldwide if one chooses to look at it closely.
Gandhi: "…first they will ignore you, then they laugh at you, then they fight you, then you win"
The subsequent exchanges in parallel sessions were as cross sectional as they were informative. Lookout for my subsequent reports from San Francisco FNetswera@gmail.com 
Tuesday 29th April 2014: Dana on the vexed question of whom it is that intermediaries serve? Donors or communities?  
The conference started with an adapted version of the union organizing song "What Side Are You On?"  Little did I realize at the time how much that little ditty would affect me throughout the first day of dialogues.
My first breakout session of the day focused on "The importance of intermediaries in advancing social justice". I choose that workshop because I assumed they would talk about organizations like the one I represent.  Then, somewhere in the middle of the presentations and questions from panelists, I became confused by the way we were talking about intermediaries.
The panelists shared that, to them, intermediaries are:
Issue experts and thought leaders;
Networkers and collaborators;
Making grassroots organizing possible;
Helping big donors disburse grants to small organizations;
Offering political cover to Foundation staff looking that want to overcome Trustee tendencies towards traditional philanthropy;
Important mechanisms for getting resources to the base;
Providing technical assistance to grassroots organizations;
Giving funders the stories they need;
Making it possible for their organizations to seek systemic change;
More effective messengers for change; and/or
The most loyal and strategic funder partners.
While some of these ideas fit my organization, others did not sit well.
Then Nora Murad, from the Dalia Association in Palestine, which I consider to be a peer organization, asked a question, making it clear that she does not see her organization as an intermediary either. Nora and I had an opportunity to talk for a bit about this after the workshop and, through that conversation, I realized my confusion lay in the fact that the discussion focused on being intermediaries for the funders.
For me and my colleagues at the LIN Center for Community Development, in Vietnam, our intermediary role was constructed to benefit our community. The work that we do and the organizations we support are and always have been determined based on our mission – to improve social outcomes by organizing different stakeholders that desire change.  As such, I really like and better relate to the term and description for Backbone Organizations, as coined by The Greater Cincinnati Foundation and FSG, in a 2012 report.  While we track the outcomes of our small grants, more important to us is how we can build common ground, how we can help to form new partnerships and how we can ensure good communication's and a transparent process that people can understand and trust.
That's all just to say that I do know what side we are on.
We are on the side of humanity.
Tuesday 29th April 2014: Nora again, on moving the conversation up a gear and a welcome break from log frames
By mid-morning on Day One, I was already basking in gratitude. Hearing these folks talk about transformation of the global economy, dismantling of power structures that perpetuate inequality, renewing relationships between human beings and the planet—wow! Coming from Palestine where donors talk about inputs and outputs and indicators and where "good practice" is often defined by submission of timely reports, my hope is refreshed. I had no idea that people were still talking about social justice. That people's movements were still a living aspiration. Then, when the lights dimmed for the showing of the eight-minute film, "The Meaning of Home" I found myself holding my breath. I didn't want to miss a word or risk spoiling the moment by the banal act of breathing. With powerful visuals, impassioned explanations, the film explained the components of ecological justice in a way that made me want to cheer. And the day got even better when at every opportunity these funders asked themselves, "What is our role in global transformation?" I am inspired!
 Tuesday 29th April 2014: Nora, on being neither a "funder" nor a "non-funder"
A pre-conference meeting preceded the opening welcome panel, and already the contradictions and challenges of defining "community philanthropy" have come to the fore. The organizers of EdgeFunders' Just Giving Social Philanthropy Conference in Berkeley, CA called for a caucus of "non-funder" conference attendees. Slowly, as the word spread, the small room filled up with an exciting mix of climate justice activists, food sovereignty advocates, indigenous leaders, and others.
It made sense to me that folks who aren't donors might have unique needs to fully benefit from a meeting primarily composed of grantmakers, but I am not sure whether or not Dalia Association, Palestine's community foundation, is a "funder" or not. One could say that Dalia is a funder. Dalia is a community foundation. Dalia gives grants. On the other hand, Dalia is not a donor. We aren't "giving" "our" "money" to others. We are "mobilizing" "collective" "resources" for "communities" to use because it is their "right."
As the conversation goes on, I'm realizing that the concept of "philanthropy" that is being used is perhaps unclear, or perhaps I don't agree with it, or perhaps it is in transition. Are the ones who give money "philanthropists" and the ones who give time, expertise, sweat, ideas, passion merely "receivers?" I take the risk to raise this question and it is warmly received, embraced actually. One guy says that all the resources that funders have were actually stolen from others, and that even funders who recognize that the need for massive social transformation may not acknowledge that philanthropy too must change. We're all in process. What a very exciting conversation…