Drishana is celebrating; in fact she is ecstatic. As September draws to a close she has reached her fund development target: USD $5,000 from a range of individual donors by means of Global Giving.  The money will open the doors, and meet the running costs for a year, of a Safe House in Aizawl, to provide for women and children that are victims of domestic violence. The project is run by a woman who herself is a survivor. Working across the seven regions that comprise the Northeast of India (Assam, Meghalaya, Mizoram, Manipur, Nagaland and Arunachal Pradesh) the Foundation for Social Transformation (FST) highlights essential community-based work and engages in an active programme of fund development. But more than this, they are planning for the long-term, recognizing that community philanthropy brings an important new dimension to social action – the ability to mobilize local resources for positive change. This has been the first time that Drishana has been involved directly in fund development. Judging from her smile and sense of achievement it won't be the last.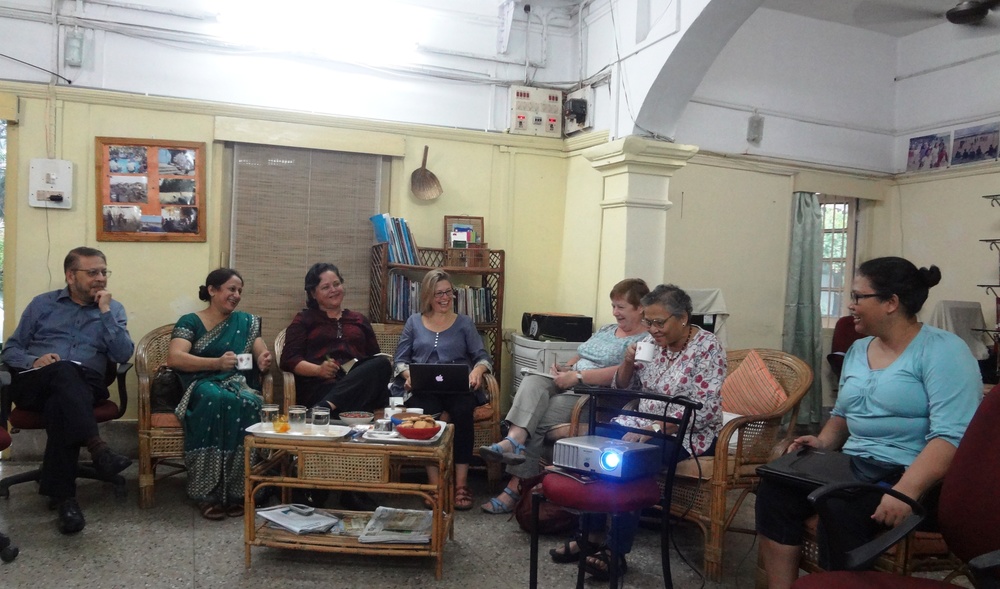 Avila, Jenny and Rita meet with FST staff and board
As the crow flies, Guwahati, where FST has its office, is closer to Hanoi than to New Delhi. When we visited it in September 2014 the city was suffering from late monsoon flooding that closed local primary schools and ruffled the coconut trees up into a bad hair day. For areas across this far flung region the unremitting rain brought a number of deaths and considerable disruption through flooding and landslides. This didn't prevent Gayatri Buragohain (CEO of FST) from bringing us out to meet social activists in Kokrajhar, an area under the control of the Bodoland Territorial Council. Gayatri used the lengthy travel time to explain the importance of the work of the foundation given the complexities of the Northeast region. The related aspects of grantmaking and fund development lie at the heart of her mission, but there is also a strong value base of social and gender justice alongside a society free from want, fear and discrimination.
Building Trust Through Solidarity
In the political and demographic complexity that is the Northeast, there is always a danger that donors fund where it is easy rather than where it is most needed, as Gayatri explains. Sporadic, and multiple, guerrilla movements have long been agitating around demands for autonomy and/or sovereignty based on sub-national identities, bringing them into violent conflict with the Indian state forces as well as other communities, such as migrants from Bangladesh. Some 90% of the border areas are both international and porous, edging up against Bhutan and Myanmar, as well as Bangladesh. Members of the Bodo community spoke angrily about how its language, script and culture were in danger of disappearing. One of their demands is for the building of universities and colleges in their area – this is now happening.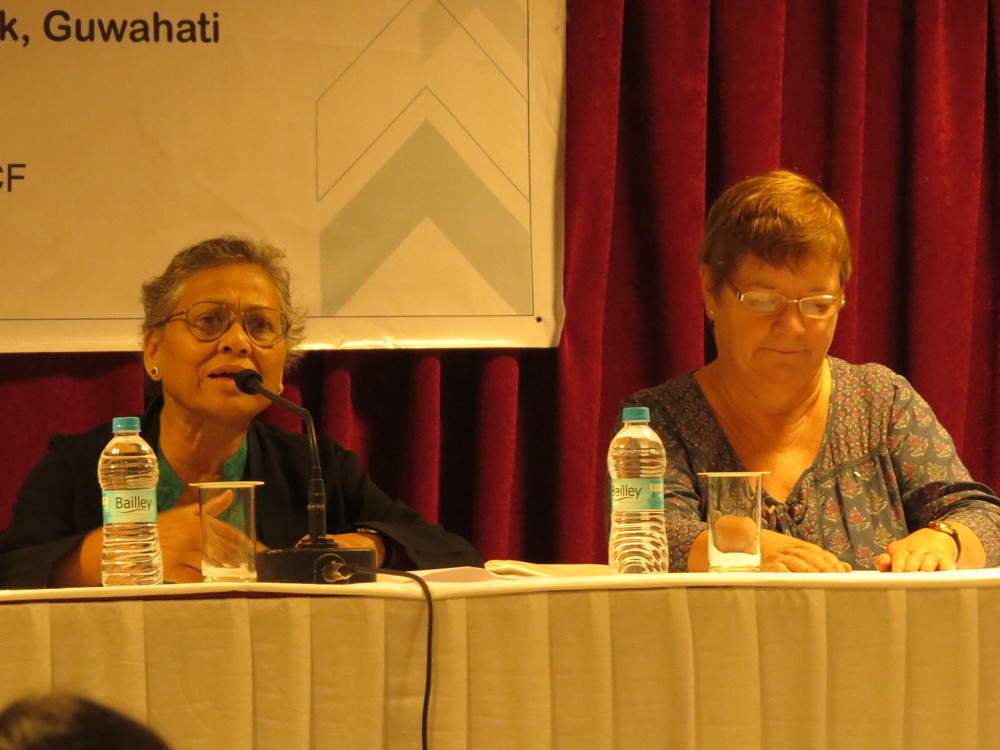 Monisha Behal, Chair of FST, and Avila Kilmurray
Not surprisingly the ongoing violence brings its own challenges. Relations have to be nuanced with a wide range of social organizations that may have very different ethnic and political aspirations. Resources allocated by FST are carefully judged and must be seen to be allocated in an inclusive and even handed manner. The next fund development target, entitled Northeast Rising, is to provide 14 Youth Fellowships on Peacebuilding (two for each of the seven regions) and seven organizational grants to women's initiatives (one for each region). Inter-regional convenings can then draw out shared issues while leaving space for the examination of difference. The FST Chairperson, veteran women's rights campaigner, Monisha Behal, recognizes how discussion can build an understanding of difference, if not necessarily achieving agreement. A previous FST partner, Nonibala Narengbam from Manipur, spoke about how "working with FST for one year gave me incredible experience of working with women who lost their loved ones (husbands) in the armed conflict. I also feel that the coming together of these women itself is a process of healing from their traumas. I witnessed women changing from the first time I met and saw them." This is trust-building, in the most difficult circumstances, from the bottom-up. Sitting on plastic chairs in the mud of a camp for a Muslim community that had been displaced from their homes due to internal area violence the plea was the same: "Who will listen to us?"
Challenges amidst Beauty
From the stately Brahmaputra River to the vibrancy of sub-tropical forests this is a region of environmental beauty. On the basis of a recent bio-diversity mapping, FST Programme Officer, Rashmi, introduced us to the startling fact that the Northeast, which comprises almost 8% of the area of India, has 80,000 species of flowering plants; 836 bird types; multiple forest animals; and 51 forest species. Little wonder that it has been declared one of the 34 environmental "hot spots" in the world. She also charted the adverse impact of pollution, illegal mining and the depletion of both cultural resources and indigenous rights. A creative approach to women's empowerment through the funding of traditional therapies and medicines is a current priority for FST. There is also an appreciation of the need to fund win-win solutions to the conflict between rural communities and elephants set on following traditional routes. Evidence is being gathered of those approaches that work. Rashmi shares her knowledge of locally based environmental partners that FST can support.
Kangkana, on the other hand, puts her energies into working with young people. Youth development is a key theme that FST has identified and Kangkana works to support a gathering of young men and women that are bubbling with ideas. Drawing from the Assam custom of Husori some of the young participants are already practicing Bihu folk songs and dances. During Bohag Bihu, one of the biggest festivals in Assam, the Husori teams visit homes to perform their dances and bring blessings. In return the household offers gifts and whatever they can afford. This is to be the new fundraising approach that will hopefully bring in resources for the establishment of a YouthBank within FST.
Rita and Gayatri in conversation with members of FST's Youth Collective
The aspirations and rights of young people are also on the agenda of the activists that we met in Kokrajhar. Youth caught at the sharp edge of political conflict can be the first to suffer. There is talk about holding a conference on children's rights. This could look at the recruitment of young people as informants by the security forces; it could also focus on the execution of a 16 year old local girl by guerrilla fighters due to accusations that she was an informer. This was all caught and circulated on social media as a stark message to others. Youth and peacebuilding remains an ongoing priority for FST – not just in fund development terms, but also in supporting community-based organizations to challenge and share new ideas locally. An impressive Meghalaya local partner, Prince Thangkhiew, is working to organize regular meetings of a Children's Dorbar (traditional gathering) to encourage children, and especially girls, to become community leaders in identifying issues of importance.
There for the Long Haul
If navigating the virtual road from Kokrajhar to Guwahati was difficult given cows, goats, geese and the descending dark, equally Gayatri and her FST board members are under no illusion about the difficulties of putting FST on a secure long-term footing. The organization was initially incubated in 2005 and gained the support of the Ford Foundation. Since 2008 it has become registered as a community foundation and has struggled to put in place a fund development strategy. There is a clear recognition that its effectiveness is linked with the mobilization of funds that can support social change organisations and initiatives. Alongside the fundraising campaigns highlighted on its website (www.fstindia.org) there have been fundraising events and increasing contacts with potential donors, local, national and international. Anju, the Finance Administrator, takes a firm line on transparency and accountability to donors. Gayatri acknowledges that such accountability is particularly important in a situation where NGOs may be regarded with a degree of scepticism. She is determined that FST can model its principles of effective social change in such a way that it will make sense to local people. If we were looking for a metaphor we saw it within an hour of landing at the regional airport. A solitary elephant trundled its way down the white line at the centre of the nearby road as a departing jet airliner roared overhead – the traditional and the modern in one frame: FST as a model of community philanthropy in practice able to draw from both the local and the global.
Avila Kilmurray travelled to Guwahati to meet the Foundation for Social Transformation with Jenny Hodgson (GFCF) and Rita Thapa (Tewa, Nepal and GFCF board member) in September 2014.