Food gardens in a Western Cape township, tended by school children and their families, under the watchful eye of an experienced gardener and grandfather. An informal grassroots group-turned NGO in China's industrial heartland in the Pearl River Delta that helps bring about a tightening up of laws on recycling. Fishermen in Mexico, concerned about depleted fish stocks, restore the local reef thus replenishing their waters and renewing their livelihoods. A rural community foundation in Romania organizes a bike-a-thon to promote a healthy lifestyle among local residents, while taking a stand against plans for a giant wood processing plant in one of the richest forestlands in Europe.  
It was a diverse group of community philanthropy practitioners and grassroots grantmakers that came together recently in Lalitpur, Nepal, for a two-day meeting of GFCF partners that set out to explore the intersections between community philanthropy and the environment. Back in May 2014, the GFCF awarded grants to community foundations in 11 countries. It was part of a new programme focused on the environment, and it was this group of grantees that travelled to Nepal for their first face-to-face meeting. We were joined by a handful of others too from Kenya, China, Bangladesh, as well as a representative of the Nepal office of the GEP Small Grants Programme (UNDP). Our host was Tewa, the Nepal Women's Fund – and also a grantee under the environment programme. Tewa's physical location (its meeting and residential facilities), on the edge of Kathmandu, overlooking rice and vegetable fields provideda tranquil and inspiring setting for our conversations (we met and slept in buildings that were built in part through community philanthropy). But the construction sites – new apartments and housing complexes – that have encroached across farmland directly in front of Tewa in recent years were also a stark reminder both of Nepal's rapid urbanization and of the tensions that frequently arise between environmental protection and preservation versus the drivers of economic development.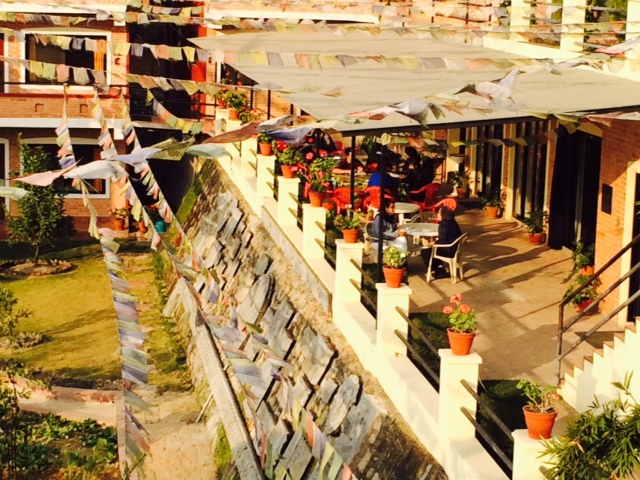 The Tewa Centre, Kathmandu
For two days our group worked together, sharing stories and experiences: for some, this was the first time that they had really start to consciously engage around the environment while others were old hands. For example, in Mexico FASOL has made small grants to grassroots groups on environmental issues to hundreds of organizations. For the majority of those present, however, the environment was one of a number of issues around which they were active. It perhaps comes as no surprise then, that our conversations were peppered with words like "holistic" and "integrated", the sense that social problems rarely stand alone from each other and that there are always connections and knock-on effects that can get lost in an issue-specific or siloed approach to development. The idea of "assets" (meaning money as well as non-financial assets but also natural assets such as forests, minerals, waters) came up too, in terms of mobilization of local (often invisible) assets as well as the idea of stewardship of financial as well as natural assets for future generations. And there was also much agreement around "the power of the grassroots", the idea that it local communities that are closest to the issues and that mobilized and organized communities can challenge power and create lasting change.
In 2015, the GFCF plans to continue and further develop this programme. The energy of the meeting, the various "A-ha!" moments and the sense that, collectively, the group possessed between them the basis of what could be described as "emergent practice" that set them apart from other parts of the non-profit and philanthropy sector. Indeed, by unlocking local assets, by strengthening local groups through grants and other supports and by building long-term and trusting across a range of constituents, we remain more convinced than ever that community foundations are positioned to act as a buffer and a resource as well play a community leadership or brokering role when it comes to complex and often potentially divisive environmental issues at a community level.
Kenyan, Chinese, Egyptian and Russian community philanthropy practitioners discuss
Over time we expect to produce more detailed reports and studies that establish a baseline for a larger body of work on community philanthropy and the environment. In the meantime, however, here are some of my takeaways from the meeting.
At the level of some of the individual organizations represented:
The observation that where community foundations have an established track record in a community, they are well-positioned to initiate community-level discussion and support local action around the environment. In Perm, Russia, for example, the community foundation Sodeistvie had observed that the environment was very low down on the list of local priorities in rural communities where they were active. In one particular community, in which the foundation built up long-term relationships through their grantmaking and other programmes, they felt as though they were well positioned to raise the issue of the environment and engage community members in a series of activities, particularly around recycling (which community members knew virtually nothing about). They now plan to roll out the programme in other rural communities.
The observation that community foundations are able to bring together different parts of the community around a particular problem around which no others were engaged. The Tuzla Community Foundation's grant from the GFCF, for example, was aimed at addressing the problem of the large numbers of stray dogs in the town. Through a series of consultations with NGOs, local government and members of the public organized by the foundation, a multi-pronged programme has emerged to deal with the issue. As a result of this success, the foundation has since found itself invited to take part in other, wider, conversations with local government and other stakeholders about environmental issues in their community.
The confirmation that where community foundations have an established base and trusted relationships with a range of stakeholders, they can mobilize quickly and appropriately in the face of an emergency. Again, in Tuzla, following the severe flooding of May 2014, the community foundation was quick to mobilize, providing boots and shovels for the clean-up operation, emergency grants of €200 and larger, €2,000 grants, for bigger initiatives. At a recent GFCF board meeting, the director of the community foundation observed that 74 grants were made to long-term partners in the aftermath of the floods, the kind of rapid response that international NGOs arriving somewhere for the first time would be pushed to achieve.
The observation that the environment is not a stand-alone issue but rather cuts across every aspect of community life. Some of the examples that emerged at the meeting included:
– Environment and social justice (exploitation of trafficked children): the Foundation for Social Transformation in Guwahati, India, for example, used its grant to conduct a mapping exercise of grassroots groups working on environmental issues in the region and found that much of the environmental degradation that is taking place in one of the world's environmental "hotspots" in terms of its rich biodiversity is associated with coal mining and, in particular, the practice of "rat-hole" mining which involves thousands of (normally trafficked) children being sent down narrow tunnels to dig for coal.
– Environment and gender: when Tewa convened its partners (mainly grassroots women's groups) to discuss the impact of climate change on their lives, it became clear that the environment was not only a poor people's issue but that the largest impacts were being felt by women, still a highly marginalized segment of the Nepali population.
There was agreement within the group too about two things:
Ordinary people often do not see themselves as having a stake in the environment, even though they are the ones that are being impacted (and each organization had a story to share about poor air quality, contaminated water sources, food security etc.). It seems specialist and remote, the terrain of global advocacy groups, governments and policy-makers. On their part, many community foundations – who are also often not specialists – find themselves responding to the symptoms of climate change but that they are also challenged to engage with root causes, particularly when they are confronted with trade-offs between economic development and environmental stewardship.
At the same time, community foundations constitute a growing network of local organizations on that are on the ground which are building trust, working holistically, are high in local ownership, are responsive to local needs and able to connect across their community. And yet every organization in the room felt financially vulnerable and expressed a frustration that they often struggled to be understood within their own communities (the idea of local philanthropy is still very new in many emerging markets and developing contexts and grantmaking is also not well-established as a way of working).
The community philanthropy sector has also long been overlooked by international donors (with a handful of exceptions that provide the basis of the GFCF's own funding) as they too look for answers in the debates around sustainability and resilience.  In 2011 a report, Defining Disaster Resilience, produced by the UK's Department for International Development noted that:
"Sensitivity and adaptive capacity are determined by the pool of assets and resources that can be mobilised in the face of shocks and stresses. Assets and resources can be social, human, technological, physical, economic, financial, environmental, natural, and political."
Are we not talking about the same things – community philanthropy and resilience? Are we in fact ships passing each other in the night, singing the same song but in different languages? Isn't there some linking up to be done here?
Jenny Hodgson is Executive Director of the GFCF