In a few weeks' time, the GFCF will be inviting UK-based NGOs and development agencies to join a discussion in London about community philanthropy. We will be exploring two questions in particular: "How can community philanthropy contribute to development?" and "What can development do to support community philanthropy?"
The fact is that the notion of "community philanthropy" is not well established – or even well-known – within the mainstream development discourse. For the most part, it has been private foundations such as the Charles Stewart Mott Foundation and the Ford Foundation, among others, that have supported the development of local foundations, often in the context of larger programmes focused on strengthening the infrastructure for local philanthropy and civil society. Beyond this small cluster of private foundations, the idea of strengthening community philanthropy as a strategy for building local assets, capacities and trust, or for enhancing transparency, accountability and good governance has limited currency.
But is change on the cards? In recent years, the mutterings of dissent against the international aid system – particularly the role of bilateral and multilateral aid agencies – have grown to become an increasingly audible rumble. And what is particularly interesting is that these critiques of current aid conventions, while they come from very different places, are often saying the same thing. Take these two comments:
"Projects composed of short-term injections of money for too specific a cause have proven to rarely lead to maintainable opportunities for the supposed beneficiaries….Instead of targeting isolated problems for specific time periods, a more holistic approach must become an ambition."
"[The] projectized approach to capacity building, and to aid in general, rarely leads to sustainable outcomes in part because it treats partners as "implementers" and skews local resources toward donor-identified priorities…As a result….[an] organization itself may be actually weakened in its ability to respond to local needs and distracted or diverted from its core activities."
The first is from a speech given by Sibongile Mkhabela, CEO of the Nelson Mandela Children's Fund in South Africa, a strong advocate for the importance of a robust African philanthropy sector. The second is from an excellent set of articles published recently on Devex by Diana Ohlbaum which offer a critique of USAID in particular, as well as some thoughts on how it could do business differently. Ohlbaum is an independent consultant, and previously was a senior professional staff member of the US Senate Foreign Relations Committee and the House Foreign Affairs Committee, and a deputy director of USAID's Office of Transition Initiatives. Two voices from very different parts of the development space but their messages are strikingly similar.
When it comes to how big donor agencies engage with community philanthropy, whose proponents see as offering solutions and strategies for overcoming the short-term nature of development aid and in strengthening civil society so that it more locally owned, the experiences are varied. What is clear is that the term "community philanthropy" barely features in the discourse of large donor institutions. (Perhaps, at some level, it is a matter of language. Also the fact that the term philanthropy – and the "baggage" it sometimes brings of charitable acts by the wealthy that reinforce the status quo – has never really sat comfortably within the language of mainstream development. An important conversation for another day!)
In recent weeks, through different meetings in the course of my day-to-day work as well as conversations with partners on the specific issue of support from bilateral and multilateral aid agencies, I have arrived at the conclusion that the experiences where community philanthropy and development meet fall into three main categories.
1. Missing the picture altogether: Undermining community philanthropy
First, the worst experience. (Names and organizations withheld here to save on awkwardness all round). Here, an international donor institution was delighted to find a local organization that knew its community, had great connections (largely established through an intensive and sensitively crafted grassroots grantmaking programme) and that could even complete their complicated application forms in English.
The short version of this failed adventure goes something like this:
The donor (let's call it B) had strong programme interests and wasn't interested in the work of the local organization (A). Instead, B wanted A to adapt to its own agenda once the grant was awarded, which pushed A far beyond its own focus and areas of expertise – not to mention comfort zone.
Then there was the issue of "capacity building." Rather than this being an overall interest in the long-term well-being of A, this was really capacity building so that A could complete B's very complicated reporting forms.
The funding itself didn't arrive when it was expected so A was left with staff hired and ready to work but with no money to pay them, a very stressful situation for an organization with no reserves to tide them over. (Something for which the professed sympathy from B's staff – who were meanwhile receiving their salaries as usual – fell a bit flat with A).
A faced enormous constraints in implementing the programme because every activity and outcome had needed to be determined well in advance. This left very little wiggle room for A to be able to take its usual responsive and flexible approach, essential in the complex and unpredictable environment in which it was operating.
The list goes on. But perhaps the most important point here is that B had no interest in what A brought to the table in terms of its previous work – the level of trust, the efforts to which it was going to start a conversation about local resources and local agency, etc. In short, B was not interested in A's strengths as a community philanthropy organization. All it saw was a "project implementer" and, in taking such a short-sighted view, it pushed A into an impossible situation which left it highly vulnerable – both in terms of basic cash flow but also in terms of its reputation with the local community.
2. The half-view: Supporting certain aspects of community philanthropy
If you were to ask a donor such as DFID (The Department for International Development of the UK Government) whether they support community philanthropy, the answer would most likely be a "No." However, if you were to ask DFID if they had ever been involved in establishing a foundation then the answer might be a "Yes." And if you were to ask them if they had ever been involved in supporting the creation of a YouthBank – something of a signature piece of the global community philanthropy field then, you might also be surprised to hear another resounding "Yes." That is currently the case in Mozambique, where DFID funding has supported the MICAIA Foundation to establish the first youth-led grassroots grantmaking programme in the Chimoio District. Also, part of MICAIA's plans from the start has been the idea of establishing a long-term community fund for youth development which can draw on local as well as external resources. The feasibility study for this has also been part of the project that DFID is supporting.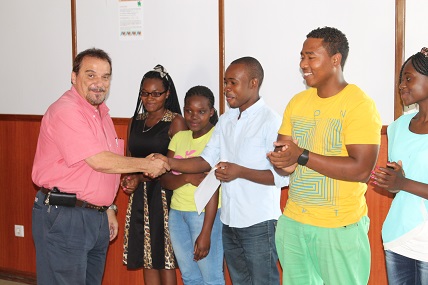 MICAIA'S YouthBank participants
Pulling together these pieces, it sounds as though DFID is in fact supporting community philanthropy: perhaps it is just a matter of different organizations using different language and terminology. Almost, but not quite. It is indeed a positive thing that MICAIA's complex and ambitious work in Mozambique, targeting young people who have often felt excluded from their own development, is being supported by DFID. But, as anyone who has ever set up a community grantmaking programme of the kind that targets small amounts of money to groups that have never encountered anything of the kind before, this is often labour-intensive, unpredictable work. It takes time to build trust and to create the conditions for local groups to be ready to receive and deploy resources in the most effective way and a "cushion" of flexible funding can be a godsend.
Of course, bilateral donors can't usually behave like private foundations: they don't have the same degree of flexibility and can face multiple internal constraints in terms of accountability, programme and funding structures. Looking forward, then perhaps the key is leverage, with more funding partnerships between different kinds of donors where each can play to their relative strengths. But for that to happen there needs to be much more conversation and exchange about how different funding organizations see the world and their role (and its limits) in bringing about change. Let's hope our meeting in May can be one place to advance this conversation.
3. Seeing the full picture: Proactively supporting community philanthropy
Finally, there are the instances where bilateral donors have been able to embrace what might be seen to be a broader community philanthropy development agenda (even if that is not the particular terminology that is applied). Last week, I joined a roundtable discussion on community philanthropy in Ho Chi Minh City, hosted by the LIN Center for Community Development. The GFCF has partnered with LIN over a number of years, providing small grants aimed at stimulating local giving (matching funding), for research, peer exchange visits and overall institutional development. In turn, LIN has been an important and generous source of learning and sharing for other community philanthropy organizations. At the meeting was a representative of Irish Aid. And guess what? Irish Aid has also been providing small grants (including matching funding), as well as opportunities to learn and share more broadly within the region (in fact, a group from Laos was just coming to the end of a week's study tour, funded by Irish Aid). Like the GFCF, it has also regarded strengthening LIN as a key priority, above and beyond its ability just to deliver programmes.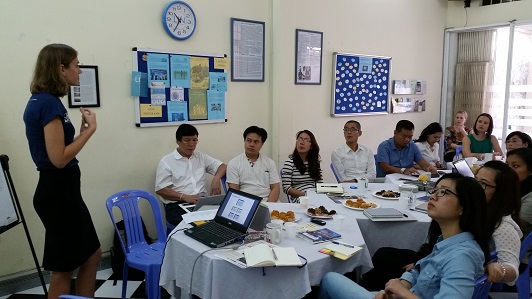 March 2015 Roundtable at LIN Center, Vietnam
So it's not all bad news, but there is definitely something that needs to be done about better communication between different kinds of donors, a more intentional "laying out of wares" when it comes to what each can offer, and a more rigorous deconstruction of language so that where there are synergies, they can be arrived at more easily. Platforms such as the Global Alliance for Community Philanthropy, which brings together a set of different kinds of donors (including, interestingly enough, USAID), offers an excellent starting point for this kind of thoughtful interaction.
I wanted to share a final thought that came out of one of the conversations that resulted in this blog. We were discussing the aid industry's preoccupation with the "end user", to the extent that virtually everything between the cheque leaving their account and the end user is just a link in a production chain, a cost that needs to be accounted for. If community philanthropy organizations can be repositories and stewards of social and financial capital, of trust across and between communities, models of good governance and horizontal accountability, then how about rethinking a category of "end user" which includes such institutions as a good in themselves – not a conduit or a mechanism but something that local people care about, own, give to and turn to in times of need?
Jenny Hodgson
GFCF Executive Director