The familiarity of the scene was both startling and sobering. A couple of months ago, I joined a field visit to a village in eastern Uganda, a stunningly green and mountainous part of the country, rich in coffee and banana trees. The experience transported me back twenty years to my first proper experience of Africa.
Back in 1992, fresh from university, I had spent a year in a village in the far southwestern tip of Uganda, teaching English (one text-book per ten students) and Health Science (which depended too much, unfortunately, on my rather inadequate chalkboard drawings). I learned how to crochet (and spent many an hour producing intricate seat covers in white and dazzling pink and discussing the relative merits of Uganda village life versus that in large British city with my crochet friends, the school's secretary and the librarian), attended several weddings in far flung corners of Kabale's surrounding hills, and wondered why tins of World Food Programme fish were being sold at our local shop. And all against the backdrop of booms of gunfire, that were the sounds of a civil war being fought over the border in Rwanda.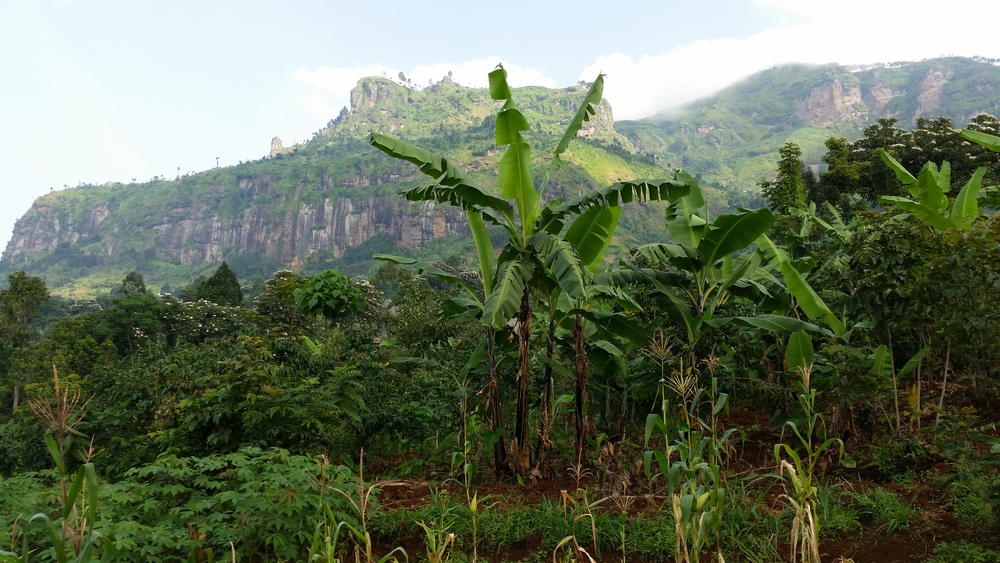 At school, each term a nurse would come to school to check if any of the girls were pregnant. If yes, they were promptly expelled. And, too often, bright students would disappear for weeks on end to return, after a severe bout of malaria, with less of a sparkle in their eyes and less ability in their schoolwork. I also got to see how various government policies played out at village level. Uganda's World Bank-supported Structural Adjustment Programme was then in full flow: in the village this meant that the school closed and all teaching was halted as "ghost" teachers were weeded out from the pay roll. It was a mystifying process to all of us. In terms of elections, years of brutal civil war and a complete break-down in trust, had led the government to introduce a new, fully transparent system that dispensed with ballot boxes and involved voters actually lining up behind their chosen candidate so that there was no doubt as to the result (and on voting days, there also seemed to be more beer in circulation than usual). Most people seemed to feel it was a more credible process than closed, and often stuffed, ballots boxes.
But what I learnt more than anything during that year was how different the world looks from a position of poverty. Obviously I was a comparatively wealthy foreigner, but as the months went by, I got to understand and appreciate the forces – so often random and unstoppable – that shook and shaped the community: heavy rains wiping out a field or a home, cerebral malaria or AIDS taking away a breadwinner. The effect was to limit people's expectations, and to foster a sense of passive fatalism, powerlessness, and ultimately acceptance. And beyond that, I learnt how the community saw the forces of "development" – as something wholly external, something "done to" a village, a project or initiative that might seem bewildering to those on the receiving end, but which would be accepted dutifully with the conclusion that "someone up there" must know what they are meant to be doing. 
And here we were two decades later, in a very similar looking village in Uganda. Although the overall story we were there to hear was a positive one (a small grant had helped the community to organize itself through a goat farming project, people who had never really spoken to each other were now working side by side and the women "had found their voice"), it was hard not to feel a sense of disappointment, and by extension, of something close to guilt. There was the deep curtsey of the woman who greeted us, eyes cast down, hand extended in the formal elbow-hold African handshake that is sign of respect although, sometimes, feels like supplication – that the outsiders must automatically be better or superior; the hint of gender dynamics that dictated that the woman stoop so low but not the men; the village school – that looked exactly like the one in which I had taught my more memorable classes on water-borne diseases – more suited to housing cattle than learning, and with a metal roof that would be the cause of an almighty and deafen clatter whenever it rained; stories told of children still being sent home from school because although primary education is free, there are still various hidden fees needing to be paid and parents still failing to manage this.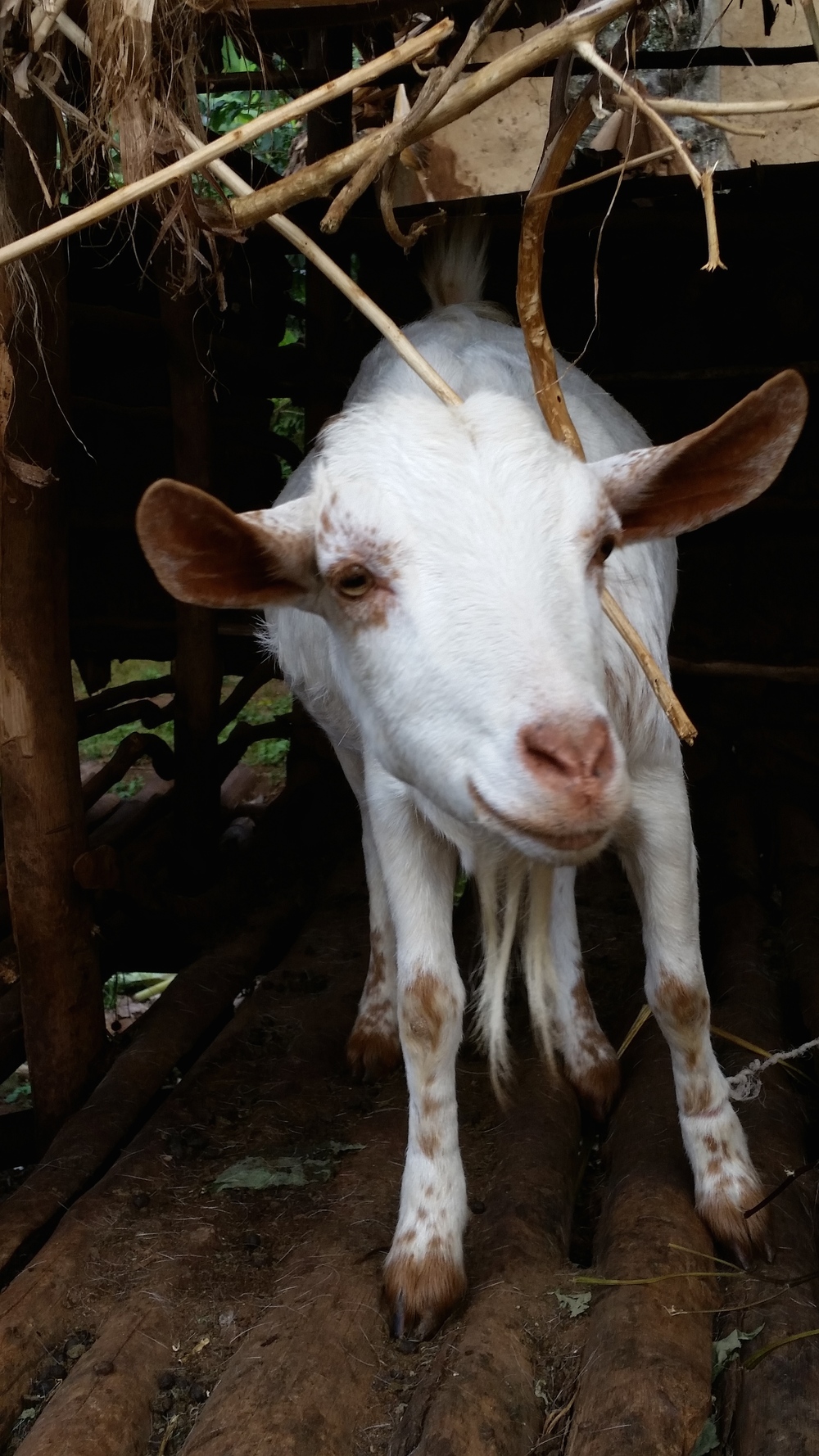 Don't get me wrong, the overall trajectory of social development indicators in Uganda is generally positive. Under-five mortality rates are down from 178 per 1,000 to around 60, and there has been a significant reduction of mother to child transmission of HIV. What was striking, however, was how the overall conversation in the village had remained the same: the goat story was a bright spot in a broader scene of stagnation, poverty, and isolation. No one we spoke to could think of anyone from the village who had actually ever left to get work in the nearby town, let alone Kampala.
The term "brief-case NGO" is a well-used shorthand across Africa for the dodgier parts of a civil society sector that is not particularly well trusted. And indeed, in the village, the stereotype rang only too true: its only previous experience of an NGO had left a bad taste – promises had been made, but this was followed either by a change of heart or downright dishonesty on the part of the NGO which was never seen again.
Standing there, watching and listening, I felt a sense of sadness and shame. How could it be this way? I have spent the last twenty years studying, learning about, working in philanthropy and development – a fast-changing field where new ideas, approaches, the next "silver bullet" pop up with an astonishing frequency. Structural adjustment had come and gone. Then there were the Millennium Development Goals and, coming soon, the Sustainable Development Goals. In philanthropy we've seen grantmaking and non-grantmaking approaches, the emergence of "strategic" philanthropy, venture philanthropy, impact investing…  And yet, here in this one village, it struck me that fundamentally very little had really changed for people; that an isolated community had never been aware of – let alone been involved in – the lively and dynamic conversation that the rest of us in development have been having.
Of course, critiques of aid are not new and there are some particularly good and urgent ones around at the moment. In fact, it was a meeting to explore ways to demonstrate and advocate for more community-driven approaches to development that had brought me back to Uganda this year (the goats project was the result of a highly engaged grant made by the meeting organizers, Spark Microgrants). For two days, against the stunning backdrop of Mount Elgon, a group of NGOs and a couple of donors had mulled over the contradictions and complexities of development aid, all united in the belief that there had to be better ways to work and that each of the organizations present possessed some component of that "better way".
I note, with no small sense of irony, that too many meetings in hotel conference rooms can only reinforce the sense of displacement I've already described. What is the alternative? (Ideas please! There's a comments section below). But I am afraid I am going to have to take you to one more conference room before I finish here.
A few weeks' before the Uganda visit, the GFCF had brought together a group of community philanthropy partners from across Africa in Arusha, Tanzania, to meet and learn from each other and to also to work together to better articulate a development approach that can be more reflective of the interests and abilities of the people it's meant to serve. So we were joined by people from Egypt, Congo, Zimbabwe, Mozambique and Ethiopia, who each represent the various scattered and multi-lingual outposts of this emerging conversation about community philanthropy as an alternative development approach.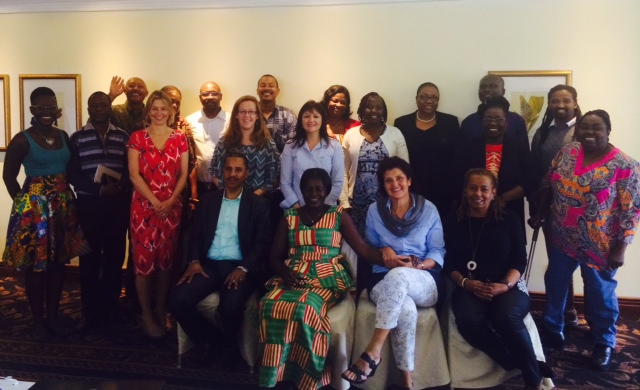 GFCF Partners convening in Arusha, June 2015
One of the main topics of discussion was around a piece of research that the GFCF has been working on with the Nelson Mandela Children's Fund in South Africa. We were interested in testing the hypothesis – often aired but harder to demonstrate – that local grantmakers and foundations bring something distinct to the table; that, beyond money, local foundations can play all sorts of other roles, as mentors, connectors and long-term sources of support; that they can support and help build local organizations which can indeed bring in local people and not just leave the business of development to "experts" (I lost track of how many people had joined savings or self-help groups and contributed to village funds on our site visits to Limpopo for the research, but it was a phenomenal number); that when such local foundations are themselves fundraisers trying to address issues of their own long-term sustainability, such preoccupations get – consciously or unconsciously – passed on to their grantees; and that issues around decision-making and governance – and therefore power – become more important than ever. The kinds of things that might move a community from being passive recipients of development to engaged participants.
We wondered whether we could identify, together, some of that "magic mixture" and if so, whether we would be better able to say why, for example, local African foundations are better than external donors at doing things like reaching deep into communities in meaningful ways, in listening to local people (without the same complications that can often arise from visits from "outsider") and in building trust. If that village in Uganda had had a ten-year relationship with a local grantmaking foundation (as in the case of the Makutano Development Association in Kenya) would the situation have looked any different?
It is clear that there has to be a fundamental shift in how development is done and it needs to offer a framework that connects people to people, ideas to ideas, concepts to concepts, vertically from communities to big donor institutions and, as importantly, horizontally across communities in all their diversity. Tinkering at the edges of development is fine but what is needed is big change.
We were fortunate to be joined at our meeting by the redoubtable Joyce Malombe, author of the first report commissioned by the World Bank back in 2000 to examine the potential role for community foundations to play in fostering community-driven development, and someone who can be relied upon to bring a conversation down to brass tacks. We asked Joyce to reflect on the current state and relevance of the African community philanthropy field. Here are some thoughts that stayed with me:
There is nothing more powerful than when people / communities know what it is they want, and can be supported in voicing those aspirations, and building the institutions that can deliver them.
That's the magic so often missing from "development." If communities are left behind, or out of the mix, development will never get anywhere
If we, as practitioners, believe the above, then we have no choice but to make it happen: we need to get better at talking about what we mean with clarity and confidence and at demonstrating what successful community development can look like.
Jenny Hodgson, GFCF Executive Director