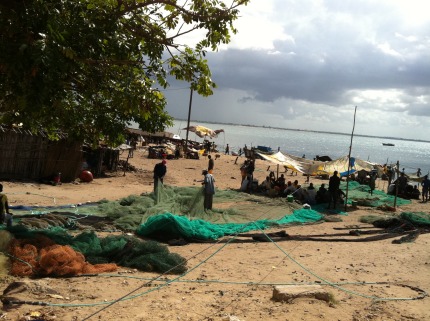 Fishermen at the end of the dayA few weeks back I had the privilege of spending some time in Ilha de Mozambique. I had heard much about this former capital of Portuguese East Africa (as Mozambique was then called), but nothing prepared me for the reality.
Ilha, as it is commonly known to the locals, is a place of contrasts, a place that time and modernisation have left behind. Massive stone buildings – crumbling away before your very eyes, some with trees growing into the walls – dot the Stone Town part of the island; and tiny wattle-and-daub houses, literally divided by the main road, lie packed together, below sea level, in the quarries on the other side, called Makuti Town. Startling ocean beauty and historical artefacts lie side by side with stark poverty, unemployment, absence of basic amenities and lack of control over resources; and rich and diverse cultural history, encapsulated in intricate dances orally transmitted over centuries, is juxtaposed with harsh reminders of what was once a hub for the east African slave trade.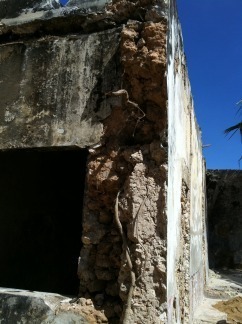 A tree growing within the walls of the building
The island is inhabited by more than 16,000 people, the majority  of whom have no access to the resources, secure livelihoods or decision-making processes on the island. Granted World Heritage status in 1991, Ilha is a place with an abundance of heritage and a huge potential for cultural tourism, but little has been done in this regard. What tourism development has taken place has not been to the economic or social benefit of its impoverished residents.
From this context emerged the Ilha Community Foundation, a local organization spearheaded by Hafiz Jamu, a young but respected religious leader, and supported by Technoserv, an international NGO that works on supporting business solutions to address poverty.
The plan they have is a visionary one – to acquire the architectural heritage of the island as the endowment for the Foundation, and to preserve, restore and use those buildings to  generate material and financial resources that would:
develop the island into a tourist attraction through investment in the historical heritag
do so in a way that vests ownership and control over the tourism products and services in the hands of local residents
generate an income that would be used to help preserve the cultural heritage of the island inhabitants and foster social and economic development
The Foundation has already secured one building and begun to restore it. This building will serve not only as the Foundation's headquarters but also as a community centre, library, information hub and central space for the various artisan and cultural groups that are part of its membership. In addition, it has secured support for on an initiative to develop a tourism home-stay project and related downstream services, aimed specifically at directing tourism revenues towards the less-resourced Makuti Town.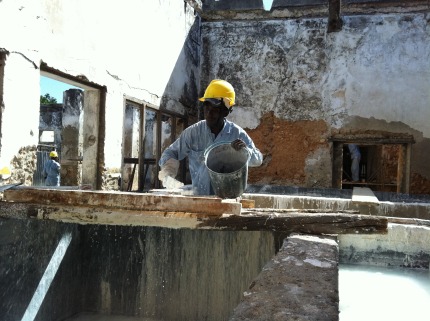 Renovation work on the new headquarters of the Ilha Community FoundationThe Foundation's long-term plan includes preservation of historical records and artefacts; reflecting, recording and preserving  the history and cultures of the island's Makua inhabitants (in a place dominated by Portuguese colonial history); and providing a space through which local voices can begin to be heard and to influence the development initiatives in Ilha.
Ilha CF is a young organization and has a long way to go. But it has very intentionally started off as a broad-based membership organization, including local cultural, religious and artisanal groups, and representatives from local government and non-governmental entities working on the island. The challenges it faces are many but the potential for this Foundation to make a significant impact on the lives of Ilha's inhabitants is enormous.