Colombia, here we come! Bogotá to host the 2023 #ShiftThePower Global Summit
01 Mar 2023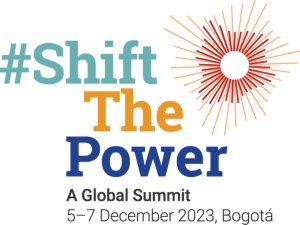 Visit the #ShiftThePower Global Summit website here!
We are excited to announce that the 2023 #ShiftThePower Global Summit will take place in Bogotá! The Colombian hosts for this global event, which will take place in December, will be TerritoriA and Global Nation.
13 bids from all over the world were submitted in response to the GFCF's call for Summit hosts, and Bogotá was selected after careful consideration and review. With a lot of "#ShiftThePower energy" having emanated from Africa in recent years, including the first Global Summit on Community Philanthropy in Johannesburg back in 2016, it felt right to seize the opportunity to deepen and grow the movement within – and from – another region of the world this time. (Bids from Asia and Eastern Europe were also received with great interest, perhaps already charting the path for future Summits?)
Two central pillars lie at the heart of the #ShiftThePower movement. The first is a dissatisfaction with top-down development approaches that fail to deliver for the people they are meant to serve. The second is the idea that new ways of "deciding and doing" are already emerging around the world and that, if these can be harnessed and joined up within a larger umbrella of movement generosity, this emergent system, which is comprised of activists, social innovators, community-led champions – as well as alternative practices, ways of working, and resourcing and measuring development work – can become more visible and organized as a force for genuine and lasting change.
In that spirit, the proposal from TerritoriA and Global Nation outlined a truly networked approach which went beyond the two organizations themselves, with support mobilized from social and philanthropic actors from across Latin America, united in their common purpose:
"Our rejection of competition as a driver of development, our reliance on territorial autonomy, the focus on relationships and 'hows' rather than on instant outputs, and the deep-rooted belief that at the local level, there are resources that can be strengthened and connected."
While the Summit will be grounded in the context of Colombia – and Latin America more broadly – it will also be global in its perspective. Outlining their aspirations for the event, TerritoriA and Global Nation described an initial and powerful framing for the event:
"We want to continue understanding the [#ShiftThePower] movement and reflect on what it is becoming. How have global conditions been transformed? Where are the gaps that need to be closed? What challenges remain? And what do these practices mean in a Global North at war and a South in turmoil? There is also special interest in reflecting on what Latin America could add and share with other latitudes."
What else can you expect from the Summit in Bogotá? A participatory planning process over the coming weeks and months, non-traditional venues, various offerings to introduce participants to Bogotá, and much more! Watch this space for more information on the Summit, including an announcement of exact dates, how to be part of the planning process and other lead-up activities, and how to attend.