Why it's time to #ShiftThePower – and why you should join us in Bogotá for the #ShiftThePower Global Summit!
13 Jun 2023
Visit the #ShiftThePower Global Summit website
Why it's time to #ShiftThePower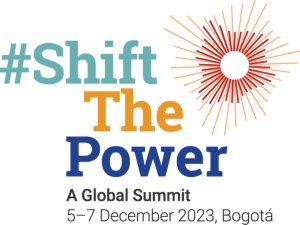 Seven years have passed since the Global Summit on Community Philanthropy in Johannesburg where the hashtag #ShiftThePower emerged as a rallying cry for change, and four since the Pathways to Power Symposium in London.
Today, the world is grappling with a series of cascading and intersecting crises. A rapidly deteriorating climate, the lasting impacts of the COVID-19 pandemic, and outbreaks of conflict and violence have all exacerbated the world's worst humanitarian disasters, propelling the kinds of poverty and inequality that push the most marginalized further to the edges, fuel public anger and threaten the prospect of resilient, peaceful and equal societies At the same time, despite commitments made by the international humanitarian, philanthropic, and development system – and now also in a parallel space around climate finance – to localize aid and ensure that a greater share of funding goes directly to local actors and frontline communities, progress continues to be painfully slow. In a growing number of countries, civil society organizations are coming under increased pressure from governments through the introduction of new laws and practices that undermine their legitimacy and constrain their ability to work effectively.
Against this backdrop of gloom, however, lies another story: one of hope and possibility. The story lies in the actions of individuals, organizations and networks that reject externally imposed solutions and believe that another way is possible – one which centres people and communities as actors, decision-makers and investors in their own development processes and societies. Community philanthropy, proximate funds, citizen accountability, participatory decision-making and new networks and alliances that are grounded in the Global South and / or at the edges of the mainstream system are among the features of this emergent system which embraces both new ways of thinking and working, and strategies aimed at engaging and influencing actors in the formal philanthropy and development system.
#ShiftThePower is a mobilizing force that seeks to highlight, harness, resource, legitimize and join up these new ways of "deciding and doing" that are emerging around the world under the larger umbrella of movement generosity so that it can galvanize a vision of a good society and serve as a force for genuine and lasting change. It is time to further connect bottom-up, people-centred practices, initiatives and organizations, which when considered collectively can form the basis of an alternative system, based on distributed networks and shared power. How, for example, can power at the edges of our societies be harnessed at scale so that community-led initiatives shift from being heart-warming, one-off stories to constituting the essential basic fabric of a participatory, inclusive and decentralized society?
Do you want to be inspired by new ways of deciding and doing that are emerging around the world, that centre dignity, equity and trust – and that recognize the resources and inherent power of communities? If so, join us in Bogotá from 5 – 7 December 2023! Follow all news on the #ShiftThePower Global Summit on the dedicated Summit website, where you can also sign up to receive direct updates.