Would it be possible ….? Here and now, together locally – in Hungary! Reflections on building a community foundation in Hungary
10 Dec 2012
Tamás Scsaurszki reflects on the process of establishing the Ferencváros Community Foundation, focusing on how the organization was founded and its underlying philosophy as well as some of its current challenges and hopes for the future.
Would it be possible to start a community foundation? That was the question two colleagues and I asked ourselves in early 2009. We believed that a new organization along the lines of a community foundation might best help to address the greatest need we faced in our daily work i.e. the lack of independent grant money which did not come with strings attached – whether it was local government interference or else corporate interests. What was really missing from the local picture was independent sources funding, which could support exploratory or unconventional activities or which address 'uncomfortable' issues and where decisions are taken by people with experience and knowledge rather than by state bureaucrats or corporate managers.
Tamás Scsaurszki and son
From my previous work as a programme officer at the C. S. Mott Foundation, I knew that a community foundation could potentially address this issue, as well as others, such as developing local philanthropy, strengthening social cohesion and mobilising people to shape their communities and lives through their own actions.
We were also aware that several failed attempts to establish community foundations in Hungary over the last 20 years had cast a negative light on new efforts. 'It's a good idea, but it won't work here,' we heard from many people. The foreign aid programmes and private foundations (and most importantly the C. S. Mott Foundation, which played a crucial role in the start-up and development of community foundations in all other countries of the region) have long gone from Hungary.
The start
Having played with the idea for months, we decided to
– Work in one particular community (and not nationally) and we chose the community where we live, Ferencváros, the 9th district of Budapest;
– Start without funding so that we would have the freedom to design and implement the work the way we thought was the best. In the course of our work we did find some funds that provided us the necessary flexibility. As a result we raised €32,000 for some of the preparatory work for the period of June 2009 to May 2011;
– Ask two foreign friends with relevant expertise, Alina Porumb from the Association for Community Relations in Romania and Boris Strečanský from the Center for Philanthropy in Slovakia, to help.
As a first practical step, we conducted about 60 face-to-face interviews with a wide variety of people from the district to find out a) how they felt about our community/district; and b) what they thought about the community foundation concept. Most people interviewed expressed a great deal of affection and care for our community, but to our disappointment they had almost nothing to say about the community foundation concept. We produced a very nice, easy-to-understand brochure about community foundations, sent it to people before the interview, and all people commented was that 'it was a very beautiful publication'.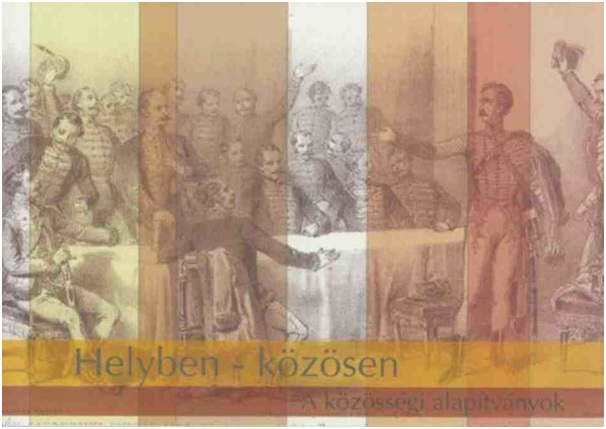 The cover of our 'beautiful', but little-read brochure On the other hand, we were extremely happy to find that the environment and the community were conducive to a community foundation and, more importantly, our group of 3 was extended by 10 more people, whose main motivation in joining us was to do something for the district's community (only later did they develop an interest in exactly how the concept would become reality).
In the autumn of 2010 the group agreed to call itself the Organising Group for the Ferencváros Community Foundation. Members of the group included owners of local SMEs (small and medium enterprises), people working for big companies based in the district, NGO and community activists, an artist and a director of a local government-owned company. The Organising Group met every other week and its work had two major directions: a) to plan and implement activities promoting the concept and our work in the community (e.g. holding an international conference, organising a football cup for district schools connected with promoting local philanthropy); and b) to prepare the registration and future programmes of the organisation.
As the work became more serious and started to show results, bringing satisfaction and fun for the group, we captured the most important rules of co-operation among members to lay the basis of an enabling organisational culture. When the Ferencváros Community Foundation (FCF) was registered on the 30th of December 2011, members of the Organising Group became trustees and we felt that we knew each other fairly well and had a good idea of what we wanted to do.
The community and the foundation
Ferencváros is a central district of Budapest. It is a large and mixed community, located along one side of the Danube. Historically it has been home to aristocrats, intellectuals, artisans and labourers, and became an attractive place for workers from the countryside to settle. Since the political changes in 1989, some parts of the district have benefited from extensive urban regeneration programmes while other parts have fallen prey to deep poverty. It is home to the Central Market, the National Theatre, the Palace of Arts, several university buildings, as well as numerous galleries and restaurants which have helped to make parts of the district popular with tourists. The district became the base for a number of international and Hungarian companies, and it also has a thriving SME community. Currently around 55 thousand people live in the district. It is a very diverse population, and recent years have seen growing inequality and stresses in terms of education, housing and employment.
When the community foundation started its work we had to find a healthy balance between responding to the needs and expectations of the community and the long-term requirement of building an organisation, a vehicle for present and future work. Due to the lack of outside support we also had to raise funds locally for both programmes and organisational development at the same time.
The community foundation has two sides to its work. The first involves raising funds for grant-making and operational expenses. FCF raises money only from individuals and companies 'attached' to the district and it does not apply for (local) government grants or contracts. The other side to the foundations work involves a range of goals, including promoting the concept and practice of local philanthropy, raising the self-esteem of the district's community, highlighting specific issues and last, but not least, increasing the visibility of FCF. To this end, we created a special fund for a very active informal group so that they can take advantage of the community foundation's legal entity when raising funds. In addition, we organised a football cup for the district's elementary schools combined with raising funds for the schools' development, as well as run a Christmas campaign in December 2012.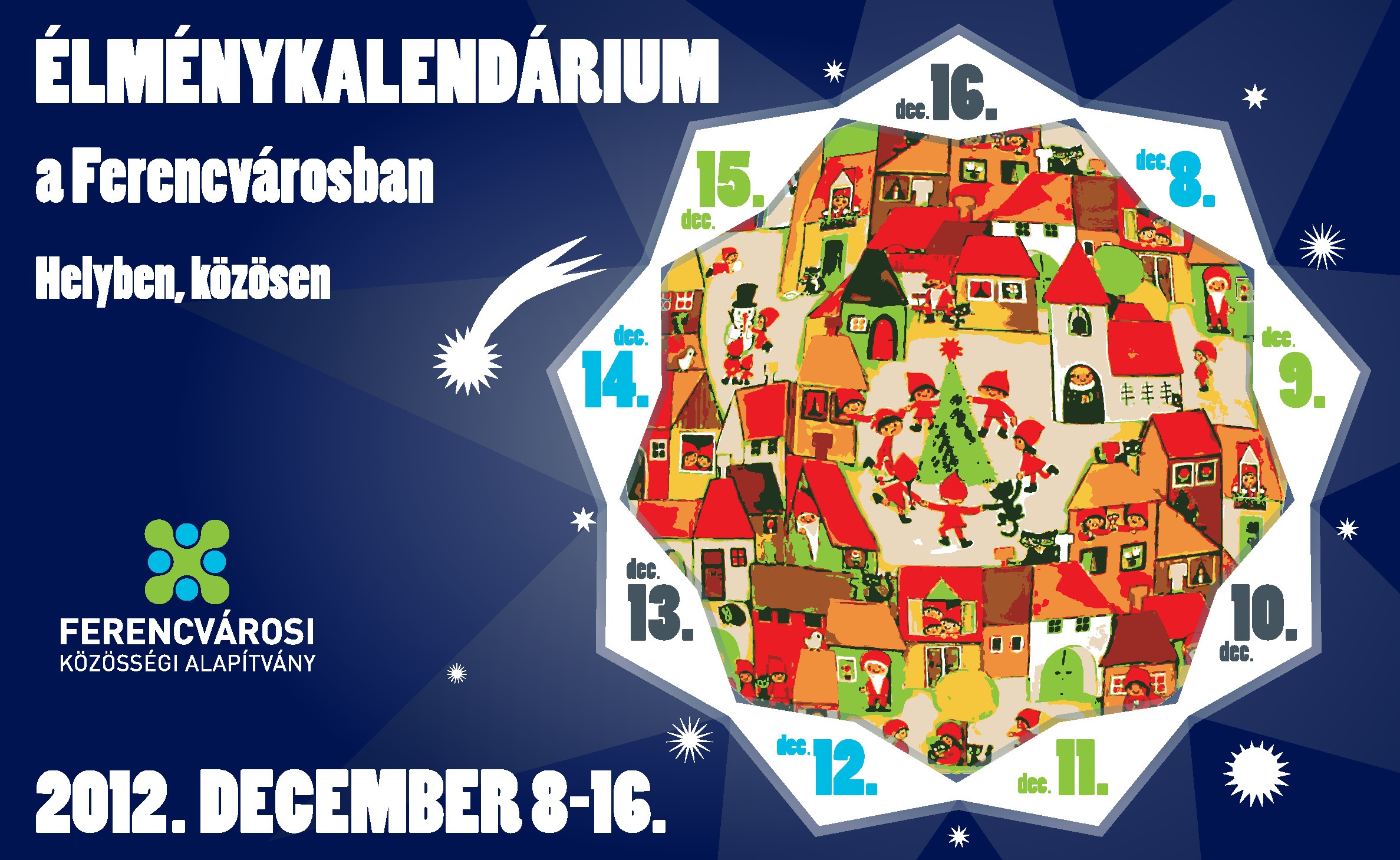 Poster for FCF's Christmas Campaign In addition, in 2012 the trustees put a lot of work into establishing the basic infrastructure of the community foundation (website, office, etc.) and promoting FCF in the district through events and face-to-face meetings. Three days have special importance for us: the summer trustee retreat held in late June to discuss issues of strategic importance [picture no. 2.], a year-end meeting with FCF's friends, supporters, current and potential partners to talk about the passing year's work and plans for the future, and an informal Christmas gathering only for trustees and their families to close the year's work.
As for the 'hard facts': the foundation's endowment fund was €700 ($900), put together by the trustees and community foundation activists from neighbouring countries. In 2012, we raised approximately €4,500 ($5,800) out of which we spent €1,650 ($2,128) on grants, €1,800 ($2,322) on programmatic expenses, and the remaining €1,050 ($1,354) is on our bank account. About two-thirds of our income came from individuals, the rest from local SMEs. The local media has featured our work ten times during the year of 2012, including a few longer newspaper and television interviews.
Challenges
If the preceding description felt like an easy journey it is not without reason: we do approach our challenges with a strong 'can-do' attitude and we like to have a good laugh when we are in a difficult or awkward situation. But we do have serious challenges.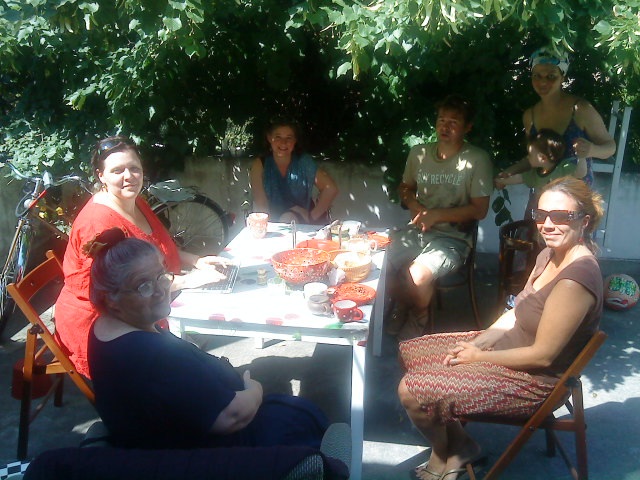 Trustees during the summer retreat in June 2012
We started the community foundation during the worst economic crisis since the political changes in 1989. Uncertainty in the financial climate, weakening business activity, rising unemployment, increasing living costs, are all pushing people and companies into 'survival' mode and reducing the energy for philanthropy and care for others.
So far FCF has failed to attract major donors and donations. Having a few major donors would have helped its start tremendously: they would have enabled it to make more grants, made it more visible, etc. But we find it difficult to convince any of the major companies to support a new organisation. More importantly, our voice is not strong enough to influence them to look at our district, where their headquarters are based, in a special way. When talking about major donors we also mean wealthy individuals: we are yet to discover and approach them!
Without in-country experts, a support organisation at the national level, and the possibility of participating in most international programmes, FCF often times feels like an isolated organisation compared with its cousins in neighbouring countries. What we miss the most is not money, but a regular and good chat about our work and developments in the field of community foundations with people who understand.
Position in the global community foundation field

It feels useful for others and ourselves to position FCF in relation to some of the most commonly used "landmarks" of the community foundation field, to state what we are and what we are not.
FCF started as a trustee-led organisation and we are committed to continue this way. In addition to taking all important decisions, which is required by law, it also means that trustees are informed, feel a strong ownership over the organisations and do a significant amount of volunteer work on a regular basis as we do not have any paid employees. This ensures FCF's rootedness in the community and resilience vis-à-vis challenges. The community foundation is meant to be a platform where people from all walks of life feel comfortable to work for a defined common purpose.
We regard the community foundation as a mechanism providing opportunities to people to participate with their own resources in the development of their community: donors with their cash, others with their ideas, time, volunteer work, etc. therefore we expect our partners, even our donors, to be active. It is very important for us to connect the different groups of people with whom we work (e.g. donors with grantees, businesses with local residents) with each other, since we believe that these personal encounters hold the opportunities to create a more cohesive, stronger community.
The primary tool to attain our goal is the development of local, private (non-state) philanthropy: on one hand, we would like to encourage and enable individuals and businesses to give (so we are not interested in channelling big amounts of foreign or national funds into our community to implement projects) while we wish to inspire others to act as an expression of 'loving their fellow men' (therefore we see FCF as an organisation supporting people). We see practising philanthropy a lot more than a rational exchange of money (or other resources) for clear conscience, fame or media attention. With philanthropy one can achieve things that cannot be achieved in any other way.
We are not engaged in any of the major issues of social justice, inclusion, participation, etc. affecting our community, but we are hoping to start working on them when our institution becomes strong enough and we find the right point of entry for us.
To find out more about the Ferencváros Community Foundation, please send an email to Tamás Scsaurszki