Announcing the 2023 #ShiftThePower Fellows
28 Sep 2023
We are excited to announce the second cohort of the #ShiftThePower Fellowship. 20 change-makers from 13 countries, each with their unique backgrounds and visions for change, representing varied efforts to transform communities and challenge existing power dynamics in international development and philanthropy. The Fellows were selected from a pool of over 1,400 applications, signaling a growing interest for spaces like the #ShiftThePower Fellowship for global network-weaving opportunities.
The nine-month Fellowship is an experimental approach aimed at building a more equitable and inclusive world, strengthening the collective "weave" between change-makers across the world. One of the core strategies of the fellowship is to foster connections and relationships across various ecosystems. The fellowship places a strong emphasis on elevating individual leadership alongside organizational leadership, recognizing the pivotal role individuals play in driving social change.
This year, the Fellowship is kicking off a few months ahead of the #ShiftThePower Global Summit, and we expect the Fellows to play vital roles in organizing and hosting weaving conversations in the lead-up to the Summit, working alongside some of our global partners. In addition, they will spend the nine-months of the Fellowship becoming versed in the power of social network analysis in theory and practice, while working on their own lines of inquiry and reflection.
The #ShiftThePower Fellowship forms part of the larger Giving for Change programme funded by the Dutch Ministry of Foreign Affairs, which seeks to strengthen community philanthropy as a form of, and force for, freedom of expression and rights claiming.
The 2023 #ShiftThePower Fellows: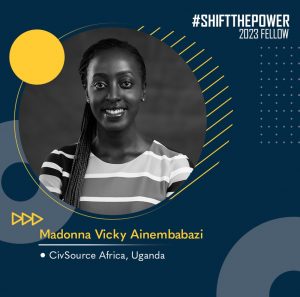 Madonna Vicky Ainembabazi: Madonna is a lawyer and writer, and currently serves as the Philanthropy Program Lead with CivSource Africa, a feminist philanthropy support organization based in Uganda. She previously served as Legal Counsel for Newplan Limited, a multidisciplinary consultancy that undertook the land acquisition and resettlement action planning phase of the East African Crude Oil Pipeline Project. In her current role, she has played a leading role in conversations and research efforts around decolonizing aid, public-private philanthropic partnerships, and community philanthropy.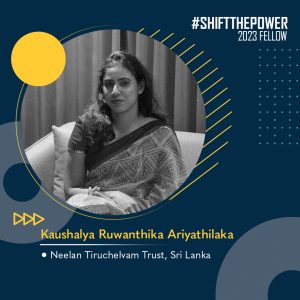 Kaushalya Ruwanthika Ariyathilaka: Kaushalya is currently the Manager for the Programs and Grants department at the Neelan Tiruchelvam Trust (NTT) in Sri Lanka. An alumnus of the US State Department Professional Fellowship programme for Asia Pacific, she was also a Rockefeller Foundation Fellow and a Dr Muhammad Yunus Fellow during her undergraduate and post-graduate studies. As an investigative student journalist for Dispatches International, one of her journalism pieces titled "A Wife's Darkest Hour", was featured in Family Violence by Diane Andrews Henningfeld. Before joining the NTT team, Kaushalya served as the Senior Manager of Fundraising at Transparency International Sri Lanka, and prior to that worked with the Human Rights Commission of Sri Lanka from 2017-2019 as the UNDP project coordinator working with the team that conducted the first ever national prisons study in Sri Lanka.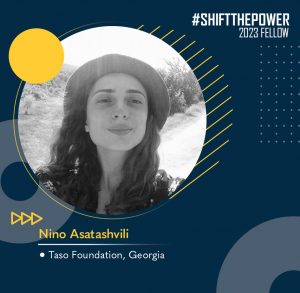 Nino Asatashvili: Nino is a feminist activist and philanthropy advocate from Georgia. She believes in the power of co-creation and grassroots activism for a just world. Nino has over nine years of experience working closely with women's rights groups and organizations and she has been part of various regional and global grassroots-based networks and organizations contributing to advancing social justice and human rights. At Taso Foundation, Nino is devoted to working with groups and organizations, advocating for women's leadership in community philanthropy to contribute to strengthening the women's / feminist movements and local philanthropy practices in Georgia.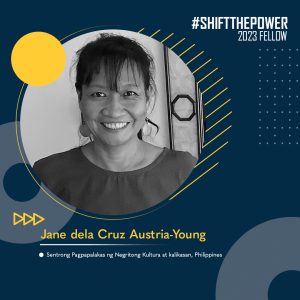 Jane dela Cruz Austria-Young: Jane has more than 20 years of experience in issue-based community organizing and in strengthening the capacity of indigenous peoples to safeguard their rights. She and fellow community organizers were instrumental in shepherding the formation of Sentrong Pagpapalakas ng Negritong Kultura at Kalikasan (SPNKK) – the first national network of Negrito organizations in the Philippines. SPNKK gives a voice to the Negrito indigenous groups and serves as a platform for them to define their own development path in line with their social and cultural realities. She combines her on-the-ground experience empowering indigenous communities and her background in engaged anthropology to provide guidance on how to effectively engage indigenous peoples in a culturally sensitive manner. She has worked as a consultant with international agencies, national governments, regional and international NGOs in various roles including policy research, program evaluation, and advisory work in the field of capacity building, indigenous peoples, development, and gender in the context of indigenous peoples.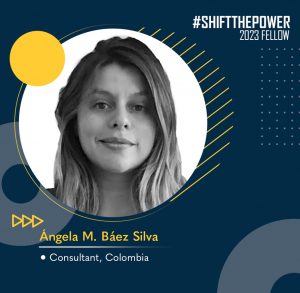 Ángela M. Báez-Silva: The core of Ángela's professional experience has been facilitating cultural transformation processes in different roles: coordinator, director, trainer, facilitator, mediator, learner, evaluator and researcher. She has worked with communities and organizations from different sectors in Colombia, always from a systems, gender sensitive, narrative and complexity approach. Her most relevant experiences have been focused on women-gender-identity, peace building, local development, dialogue, collective knowledge construction, participation, horizontal governances and education. She has worked with different organizations such as ADAPT Peacebuilding and TerritoriA, and as a professor in some universities in Colombia. "I believe in participatory, dialogical and systemic approaches, focused on ethical relationships that cultivate recognition, autonomy and trust between people who inhabit different and equally valid multiverses."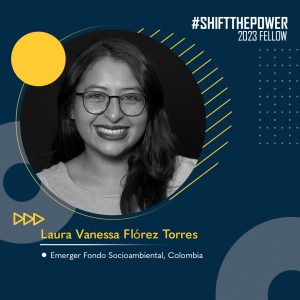 Laura Vanessa Flórez Torres: As part of Emerger Fondo Socioambiental (Fondo Emerger), a socio- environmental fund in Colombia that supports community-led efforts in the areas of conservation, environmental education, and food security, Laura uses her skills "at the service of communities, from a most authentic perspective", partnering with them to catalyse profound transformation on their own terms. Her work has involved working with 50 female coffee growers to sell their roasted coffee in the US through e-commerce platforms to improve their economic independence and to raise additional funds for peacebuilding education. Working with communities to build a better future using frameworks of trust, belonging, and shared efforts, Laura has come to recognize that sometimes communities need to be encouraged to recognize the different resources they bring to the table. "It is essential for them to be entitled to their territories and for change to happen under their guidelines." The Fellowship is an opportunity for her to better understand how these power dynamics work and how best to accompany the communities with whom Fondo Emerger works.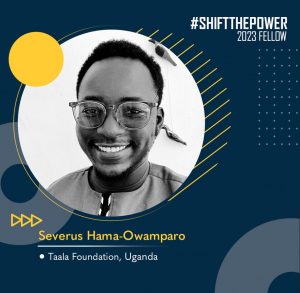 Severus Hama-Owamparo: As a founding director of the Taala Foundation in Uganda, Severus has dedicated his life's work to advocating for marginalized communities, specifically within the domain of mental health and wellbeing. The Taala Foundation has played a significant role in driving various initiatives that have resulted in important policy changes and substantial financial support for mental health programs in Uganda. "By enrolling in this Fellowship programme, I expect to facilitate a more robust international collaboration, embrace a wide range of viewpoints, and enhance the impact of transformative initiatives in various communities. In essence, I personify the essence of a fervent advocate for mental health, a meticulous researcher, and an influential pioneer within the community, consistently endeavouring to bring about significant transformations in society."
Yande Kalengo: Yande is the Power Shifting Director at Restless Development, a global youth agency in Zambia. For the past seven years, Yande's passion and commitment to dismantle power structures in the international development sector has led her to work on issues of gender equality, women's rights, and youth programming. She is a feminist, activist, and lawyer, and sits on the advisory Board of Strong Minds, an organization that works to address the mental health epidemic among urban and rural women in Zambia.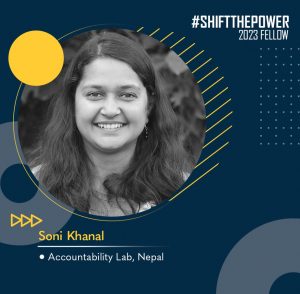 Soni Khanal: Soni is the Learning Manager at Accountability Lab in Nepal, a global trans-local network that makes governance work for people by supporting active citizens, responsible leaders, and accountable institutions. She firmly believes that community-led organizations need to break the silos and unite to reimagine the current development practices and bring about collective change. She applied for the Fellowship because she is deeply connected to, and believes in, the #ShiftThePower movement's vision of a flatter and more equitable paradigm of people-based development. As a #ShiftThePower Fellow, Soni hopes to develop practical knowledge, skills, and network to dismantle the traditional power structures for more equitable development.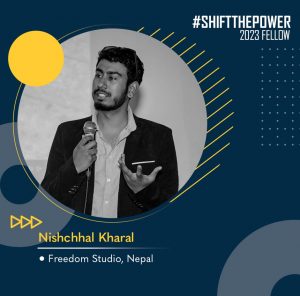 Nishchhal (Nish) Kharal: Nish is a youth artivist based in Kathmandu, Nepal. He leads Freedom Studio, a creative non-profit which strategically and creatively supports civic expression and mobilization. He has a decade-long experience in the field of youth engagement, civil society development, localization, and peacebuilding. Previously, Nish co-founded and ran a youthorganization named 'We for Change', governed by youth between 16 – 24 years old. "Being a 2023 #ShiftThePower Fellow will afford me the opportunity to think critically and challenge the existing power relations in international development work. I believe #ShiftThePower Fellowship will equip me with ideas, tools, techniques, and opportunities to transform traditional power relations between donors and receivers."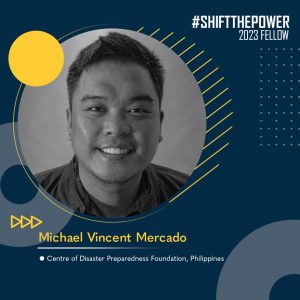 Michael Vincent Mercado: Michael is the Program Coordinator for Technical Assistance at the Centre for Disaster Preparedness Foundation (CDP) in the Philippines. CDP's vision is one of a sustainable, safe, disaster-resilient and resistant communities where there is an enabling environment for people to uphold their rights to development. "The #ShiftThePower Fellowship is an extraordinary opportunity for personal growth and transformative change. I applied with a passion for grassroots development and a drive to challenge power imbalances. As a creative individual, I hope that in this Fellowship I would be able to produce music, videos, or art that captures the vision of a more equitable and inclusive development aid. Let's shape a future where power is shared, communities thrive, and all feel a positive change."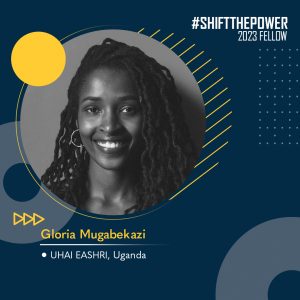 Gloria Mugabekazi: Gloria describes herself as an African feminist and development strategist whose work is premised on challenging systemic injustice to marginalized persons. She is currently the Program Officer (Grant Making) at UHAI EASHRI in Uganda, where she works at the intersection of social justice and feminist funding for women, youth, sexual and gender minorities. Her work is rooted in the imagination and decolonial approaches as a praxis to creating new worlds and dismantling power imbalances. "I am thrilled to be a 2023 #ShiftThePower Fellow, and I hope to work with others to radically reimagine resourcing structurally excluded communities working on community development, social justice and philanthropy." She adds that her favourite quote is one from Angela Davis, who once said "You have to act as if it were possible to radically transform the world and you have to do it all the time."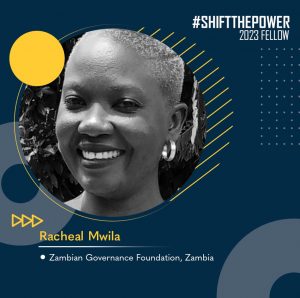 Racheal Mwila: With over eight years of experience, Racheal is a seasoned programme specialist with extensive experience in the civil society sector. Throughout her career, she has worked with a diverse range of civil society organizations, including both well-established and emerging CSOs, as well as community-based organizations. She is currently the Manager of Operations & Philanthropy Development at the Zambian Governance Foundation (ZGF). Working at ZGF has allowed her to collaborate closely with communities, empowering them to tap into their untapped potential. She has facilitated processes such as asset mapping, action planning, and budgeting, while also providing trainings in active citizenship, advocacy, and support to savings groups. What really drives Racheal is her passion for "building a resilient society, where individuals not only understand and assert their rights, but also actively participate in their own development agenda." Through this Fellowship, Racheal hopes to immerse herself in new knowledge, uncover innovative approaches, and embark on a journey to advance the #ShiftThePower agenda in Zambia.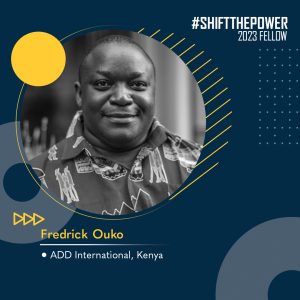 Fredrick Ouko: Fredrick is the Co-Chief Executive and Transformation Officer at ADD International in Kenya, an organization that works to support disability rights organizations and activists with funding and leadership skills to build powerful movements for change. He previously served as the Programme Officer for the Disability Rights Program at Open Society Initiative for Eastern Africa. He was the founding Executive Director of Action Network for the Disabled for over 15 years, a national disabled persons organization in Kenya working to improve the life prospects of children and youth with disabilities through education and sustainable livelihood initiatives. During his tenure as an Atlantic Fellow, he focused on issues of inequalities facing persons with disabilities in Kenya and beyond. He is also currently the founder of Riziki Source, a social enterprise that facilitates access to employment opportunities for persons with disabilities leveraging the power of technology.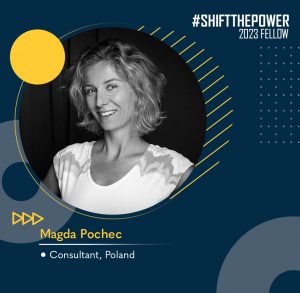 Magda Pochec: As a feminist and resource justice activist with a background in transformative philanthropy, Madga was the initiator and co-founder of the Feminist Fund (FemFund) in Poland. "I am excited about embarking on the #ShiftThePower Fellowship as I believe it offers a unique and much needed opportunity for collective learning among the practitioners of social transformation that come from diverse contexts and represent various communities. I'm convinced that grassroots knowledge has a great potential to inform transnational strategies and this collective journey of the Fellowship can contribute to surfacing and consolidation of this wisdom. I'm energised by the possibility of exploring ideas and learnings on systemic transformation with fellow peers across regions, themes and identities."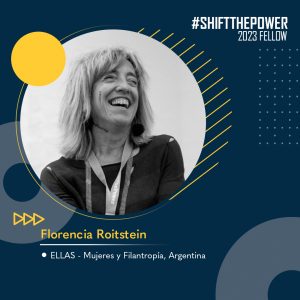 Florencia Roitstein: Florencia is the Executive Director of ELLAS—Mujeres y Filantropía (Women and Philanthropy) in Argentina, a regional organisation that works to empower the progress of women's rights in Latin America and the Caribbean through the development of community-based gender philanthropy. "The Fellowship means the opportunity to spark the global debate on #ShiftThePower through the lens of grassroots women's efforts to mobilize local resources to defend their rights and the environment in communities across Latin America and the Caribbean. I am looking forward to engaging with a cohort of Fellows from other regions to learn, share, co-create and strengthen the global movement to decolonize philanthropy."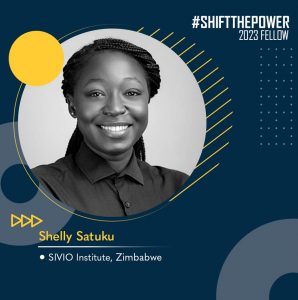 Shelly Satuku: Shelly is currently a Junior Coordinator (Philanthropy and Communities) with SIVIO Institute in Zimbabwe, an independent organization borne out of the desire to enhance agency as a catalyst for inclusive political and socio-economic transformation. In 2021, Shelly conducted a baseline study to explore community foundations in Zimbabwe, uncovering challenges and restrictions on registrations and institutional mandates imposed on local community foundations and groups by donor agencies. Working with these foundations who felt powerless in their negotiations with donors inspired her to learn more about the #ShiftThePower movement and to apply for the Fellowship. "I felt that more could be done to help empower organizations to realise their power and to work with donors as equal partners in the causes they support." Previously, Shelly worked with marginalized rural communities living in wildlife hotspots in Zimbabwe under the Zimbabwe Parks and Wildlife Management Authority.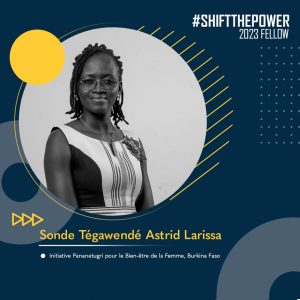 Tégawendé Astrid Larissa Sonde: Tégawendé currently serves as a Project Manager at Pananetugri Initiative for Women's Welfare (IPBF), a leading feminist organization in Burkina Faso that aims to promote the rights, development and full potential of young women and girls in Francophone West Africa. She is also the Chair of Greening Africa Together Network. As an eco-feminist, local development specialist, and community-based projects manager, Tégawendé is committed to sustainable and inclusive development, starting with grassroots organizations. "I'm delighted to be a 2023 #ShiftThePower Fellow, and during the Fellowship I hope to reflect on the factors of community involvement that lead to greater mobilization of local resources, particularly in conflict-prone environments."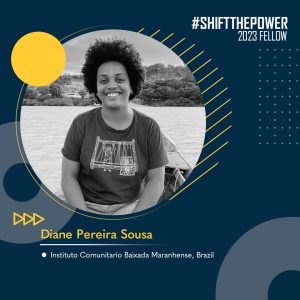 Diane Pereira Sousa: Diane, a specialist at "poetic bridges," is the President of Instituto Comunitario Baixada Maranhense in Brazil, a youth-led organization with a mission of creating the material conditions to make dreams of transformation come true in vulnerable communities in the Baixada Maranhense. She has authored and co-authored several books, including "About Our Grandmothers – Memory, Resistance and Ancestry", "Can You Hear My Voice," and coordinated efforts around the booklet "Human Rights and Student Protagonism". Her recent article, "The Canoes of Community Philanthropy and the People Investing in Each Other", used the metaphor of multiple canoes crossing a river, to explore how community philanthropy can be used to create agency, voice, and collective action. Her work has centred around community development, alternative education models, and youth empowerment.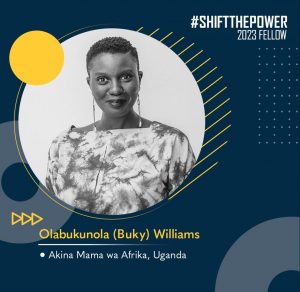 Olabukunola (Buky) Williams: Buky is the Sexual and Reproductive Health and Rights Lead at Akina Mama wa Afrika (Uganda), a feminist Pan-African development organization founded by a group of visionary African women living in the Diaspora who remained keenly aware of their African roots and the need to organise autonomously. Previously, Buky was the Executive Director of Education As A Vaccine, an organization that works with young people to advance their right to health and protection from all forms of violence in Nigeria. In 2020, she was named a Malala Education Champion. "I am excited about this Fellowship because having the space to dream, to lean into the uncertainty, and to build collective power as we navigate the multiple and overlapping crises is necessary for building knowledge and taking community-led action. It is important to be part of communities that are committed to co-creation and collaboration on possibilities and realities driven by liberation and change."