Join us for the inaugural 2022 #ShiftThePower Fellows closing session!
01 Mar 2023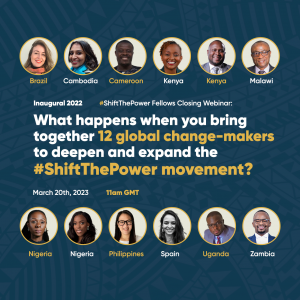 In March 2022, the GFCF, in partnership with Root Change, invited applications from the global #ShiftThePower movement for this inaugural Fellowship. The overwhelming response from the movement proved the hypothesis that there is strong interest in the role of networks, systems and change-makers in achieving lasting, systemic change. It also confirmed that there is an unwavering desire for people wanting to reach beyond their networks and silos to engage in larger systems-thinking work. The nine-month Fellowship was an experimental approach aimed at strengthening the collective "weave" between change-makers around the world and, by doing so, at deepening and expanding the #ShiftThePower movement.
12 fellows were selected from a pool of 140 applications, representing different parts of the system, from Brazil to the Philippines. Each brought with them their own understanding and biases around power dynamics, traditional aid and shifting power to Global South actors and organizations. Fellows had the opportunity to extend their networks, identify new allies and to explore potential areas of research, learning and collaboration.
In this session, Fellows will share what their journey has been like. The session will provide the opportunity for Fellows to reflect and share thoughts on issues such as: growing the evidence base for community philanthropy; what resilience looks like; alternative narratives for human rights and social justice; and, shifting funding practices and decolonizing aid.
Date: Monday 20 March 2023
Time: 7pm Manila / 4:30pm Delhi / 2pm Nairobi / 1pm Johannesburg / 11am Accra and London / 8am São Paulo / 7am New York
Duration: 90 minutes