The weaving has started: An update on the planning process for the "Pathways to Power" Symposium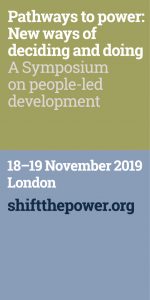 Back in July we asked people to submit ideas for topics that they thought would be important to explore at the "Pathways to Power" Symposium. Since then, many of those ideas have served as the basis for a series of small, mostly web-based, "weaving" conversations (which are still ongoing), led by and involving different people from across the philanthropy and development "system" (funder organizations, grassroots organizations, community philanthropy organizations, INGOs etc.).
They cover a variety of topics and all focus, in one way or another, on the question of power: specific topics include localization, the compassionate organization, disaster response, re-imagining the INGO, measurements for people-centred development, the role of narratives and mind-set shifts… and more.
These conversations are a way for people who will be coming to the Symposium to prepare for London, and to get thinking and talking to others so that no one arrives "cold." But they are also a way to include others too, who might not be at the Symposium in person, but who are part of the broader conversation around durable development and power.
Participation at the Symposium
The Symposium won't be a big event (we are expecting a maximum 80 people). So far, participation has been on the basis of expressions of interest – through the call for ideas and through direct contact with the GFCF. A priority is to ensure that there is strong representation from the Global South and community-based practitioners. All that we ask is that everyone who comes is ready for a serious conversation around systems change, that they attend the full two days, and that they participate in at least one of the "weaving conversations" before the Symposium.
If you are interesting in attending (or just in joining one of the weaving conversations), please contact Jenny Hodgson to discuss further.
A nominal, voluntary registration fee of $200 USD OR £200 GBP is requested from those attendees that are in the position to support the Symposium and its goals. We understand this might not be feasible for all organizations in attendance.