Webinar series considers how communications strategies, framing, and tactics can support efforts to #ShiftThePower
24 Jan 2020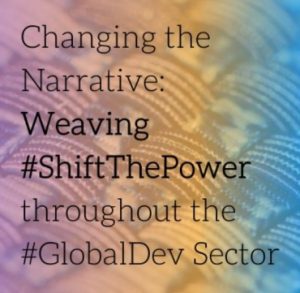 As part of the weaving conversations held around the Pathways to Power Symposium, the GFCF was delighted to partner with Jennifer Lentfer of How Matters, who hosted a series of four online dialogues entitled Changing the narrative: Weaving #ShiftThePower throughout the #Globaldev sector. This dialogue series, featuring contributions from a range of communicators from around the world and attracting around 50 participants per dialogue, considered how organizations' communications strategies, framing, and tactics can support collective efforts to #ShiftThePower in aid, global development, and international philanthropy.
Charitable portrayals of "helping" often conjure up victimhood and passivity in order to validate the assistance being given. There is a growing awareness that these portrayals uphold, rather than counteract, historical and politicized notions of "the other." This leads to reinforced narrative frames and deepened ignorance among the general public in rich countries, and perpetuate distorted and powerless stereotypes among people who are poor in formerly-colonized countries. But how can we rather inspire wider collective action without eliciting guilt, pity, or shame?
The series underlined the importance of authenticity, creativity, breaking away from tired/damaging narrative forms, letting people tell their own stories…and much more! Links to all four of the dialogues are included below.
Dialogue 1: Who's "helping" whom? (3 December 2019)
What are the dominant narrative frames based on hierarchical notions of "helping" that have shaped the social good and global development sectors? Why do assumptions and generalizations about who people are, what they need, and how they can be helped exist? How they can be shifted? Featuring contributions from: Arbie Baguios of Aid Re-imagined and Catherine Nyambura.
Dialogue 2: Hearing (and saying) what we need to hear (12 December 2019)
Exploring and understanding the institutional barriers and personal biases that prevent us from hearing diverse "voices" and telling complex stories about the root causes of global poverty. How they can be shifted? How do we decolonize our communication practices? Featuring contributions from: Maria Faciolince of Oxfam; Grace Labeodan; and, Shail Shrestha of Digo Bikas Instittue.
Dialogue 3: Expanding our moral imperative (14 January 2020)
How can we shift towards a broader, more inclusive and instructive narrative for global audiences who care about economic justice, racial and gender equality, a livable planet, and peace – not just in the future but now? Featuring contributions from: Nana Darkoa Sekyiamah of AWID and Deepa Ranganathan of FRIDA The Young Feminist Fund.
Dialogue 4: The invitation (23 January 2020)
Can organizations shake off excessive fundraising pressure to highlight people telling their own stories, on their own terms, in new narrative styles? Featuring contributions from: Tarisai Jangara of the Zambian Governance Foundation; Françoise Kpeglo Moudouthe of Eyala; Rasha Sansur of Dalia Association; and, Carine Umuhumuza of the Malala Fund.