An overview of how Brazilian Philanthropy Network for Social Justice members responded to Covid-19
05 Aug 2020
This blog originally appeared in Portuguese on the website of the Brazilian Philanthropy Network for Social Justice.
The 12 organizations that make up the Brazilian Philanthropy Network for Social Justice are a mixture of social justice funds, community funds and foundations, though what ties them together is that they all work to support civil society in Brazil (including NGOs, civil society organizations, social movements, informal groups, collectives, networks, rights defenders, etc.) in the fields of human rights, social justice and community development. Member organizations were established over the 2000s, largely in response to the reduction of international cooperation and the decrease in philanthropic resources flowing into Brazil, which saw civil society organizations suddenly facing a funding vacuum.
According to annual surveys of Network members, member organizations have collectively directly donated, through the transfer of financial resources, a total of $197,129,770 BRL ($39,425,954 USD) – these figures cover from the date of establishment of each organization, up until the end of 2018. These resources were intended to strengthen Brazilian civil society and, by extension, Brazilian democracy.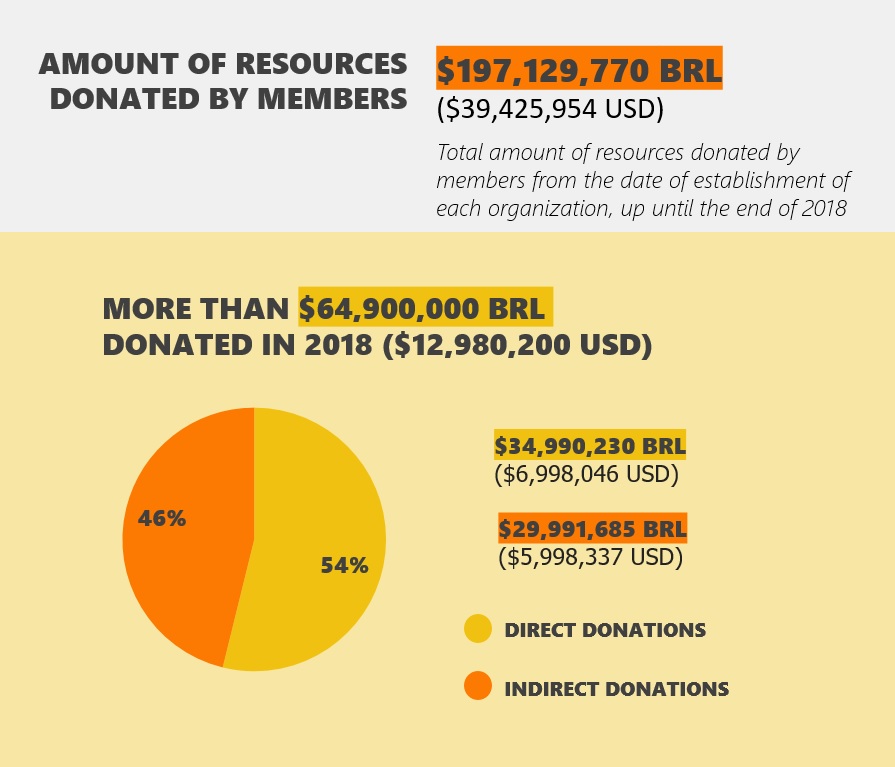 This infographic, based on data from the 2018 annual Network survey, indicates that indirect donations – that is, resources supporting activities such as meetings, seminars, debates and trainings – account for 46% of the total $64,900,000 BRL ($12,980,200 USD) contributed by members that year.
In addition to supporting civil society, Network members mobilize resources from a range of sources, including: international and national philanthropic institutions; individuals; companies; public authorities, etc. Though the way that these resources are deployed is what makes this work noteworthy, as local funds and community foundations have a deep understanding of local issues – and how these relate to global trends – as well as the knowledge and capacity to diffuse resources widely and strategically to grassroots actors, who are addressing different issues and collaborating with diverse sets of actors, across a city, region or the country.
These are organizations that:
Have profound knowledge of Brazilian civil society and the specific topics that they seek to address, as well as the needs of, and issues faced by, their constituencies.
Monitor and evaluate the initiatives that they support.
Produce knowledge and invest in building the capacities of their partners, helping to build institutional strength and sustainability.
Network members have clearly demonstrated their own capacity to react quickly to diverse scenarios, and to meet the multiple demands of civil society. In the context of the Covid-19 pandemic, Network members responded with agility and efficiency, quickly forming new partnerships and alliances to respond to the crisis. Generally, Network members reacted in several ways, by:
Creating designated Covid-19 funds and making emergency donations;
Coordinating information campaigns and communicating timely and relevant health and safety information;
Running campaigns to mobilize local resources.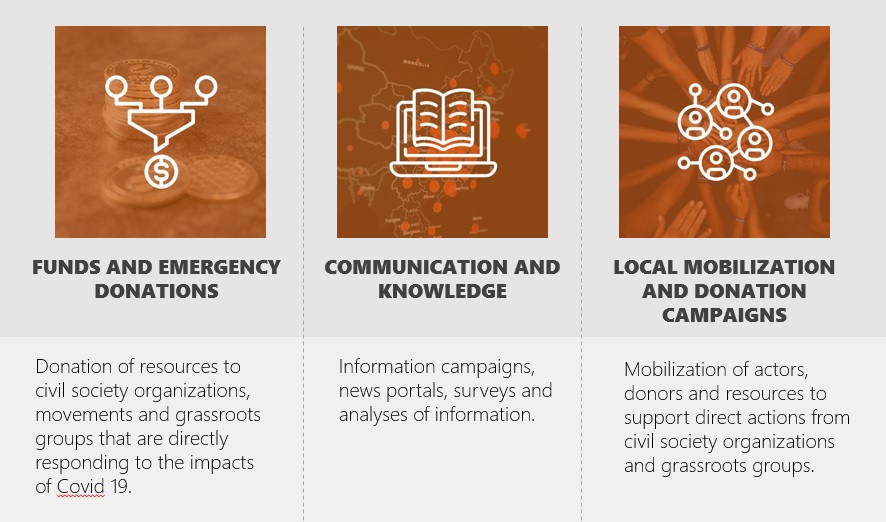 So far in 2020, in response to the pandemic, Network members have contributed $9,317,124 BRL ($1,863,425 USD) to almost 1,000 civil society initiatives. Indirect donations of supplies – including basic food baskets, hygiene kits and other forms of humanitarian aid – have amounted to approximately $2,900,000 BRL ($580,000 USD), for a total contribution of $12,300,000 BRL ($2,460,000 USD) from Network members.
Although these figures are not comparable to the sheer size of resources contributed by larger philanthropic actors and companies in Brazil which, according to the Covid-19 Donations Monitor, is in the region of $6 billion BRL ($1.2 billion USD), the main difference with Members' funding to fight Covid-19 is that it offers vital support to civil society initiatives, allowing for agile, locally appropriate responses.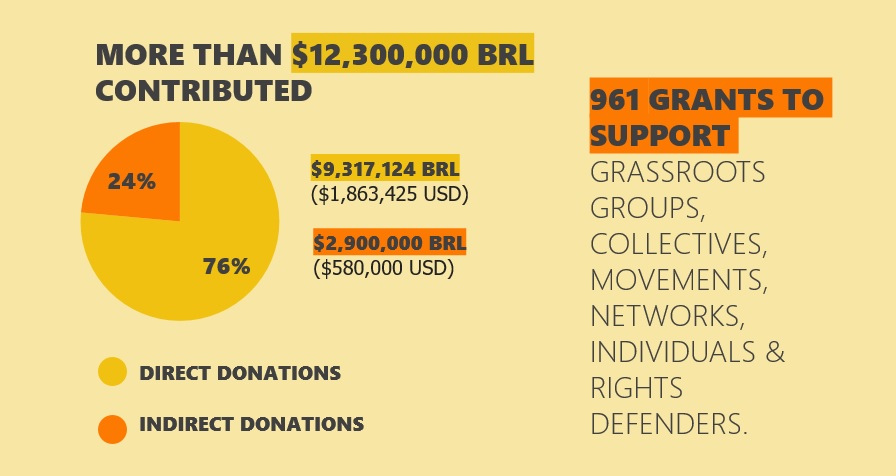 Ensuring that resources are reaching the grassroots, communities and the strategic actors at the very local level puts power into the hands of those who best understand the local context and needs. Significantly, these resources have also certainly had an important multiplier effect, in that they have been used to leverage additional local resources (through, for example, community donation campaigns).
This approach begins to show the potential for what can be achieved if communities themselves have a larger role to play in mobilizing resources, and in making decisions on how those resources are used to address local issues and priorities, as well as how community philanthropy can contribute to strengthening the autonomy of civil society.
By: Graciela Hopstein, Executive Coordinator of the Brazilian Philanthropy Network for Social Justice.